1985 Like A Virgin Tour: Madonna's home debut is short but snazzy
1985 Like A Virgin Tour: Le début de Madonna à la maison est court mais chouette.

Last Updated: February 24. 2008 1:00AM
From the archives: May 27, 1985, the Like A Virgin tour
Madonna's home debut is short but snazzy
Jim McFarlin / Detroit News Staff Writer
Originally published in The Detroit News on May 27, 1985.
She may be the Material Girl, but she really doesn't have a lot of material.
Any way you slice it, an 11-song set that plays under one hour in length is decidedly Smurfian by modern pop concert standards. Even with a two-number encore thrown in, Madonna's Saturday and Sunday sellouts at Cobo Arena were short enough to send thousands of adoring, overdressed young moppets back into the streets by 9:50 p.m., plenty of time to beat the strictest parental curfew.
But in mid-1985, with Detroit and the rest of the Western Hemisphere totally immersed in the of Madonna, the abbreviated nature of her first return home as the high priestess of pop seemed to matter little, if at all. Because, like the virgin statuette for which she was named, this blond bombshell has been truly blessed.
WITHIN HER 13-song repertoire are three singles that have hit No. 1 on the national charts, a fourth (Angel) that could follow suit, and three other tunes that are getting the bejeebers played out of them on radio. That's a simply hellacious batting average of choice cuts, and when you mate them to a stage production that sparkles with pace, polish and state-of-the-art technical wizardry, the affair actually seemed longer and more satisfying. In light of a look-alike contest and a locally-produced parody song occurring in the past week, when Madonna adapted a line from Get Into the Groove to sing, "Now I know you're mine -- Detroit!", she could say it with feeling.
"I want to talk fast, because I might start cryin'," she said to Saturday's crowd, departing from the show's rigid structure to wipe honest tears of joy from her eyes. "You know, I never was a homecoming queen or anything like that. But I sure feel like one now."
The concerts, filmed for use in an upcoming special to the inconvenience of those sitting in the front rows, were masterful examples of how to market and showcase a superstar-in-waiting. Madonna is everything one expects Madonna to be, based on reputation. Emerging from the backdrop of a giant multi-screen slide display of her image, Madonna comes draped in necklaces, chains and crosses, sporting a purple-and-yellow paisley jacket, a short purple lace top to reveal her now-famous midriff, purple tights and black boots -- the style of outfit one would imagine Prince wearing if he were to tour behind his Around the World In a Day LP.
ALSO LIKE Prince, she is a masterful dancer, and superbly tight choreography is the concert's strong suit. Never more than a few steps away from her two commendable male backup dancers, she shimmies and shakes, pumps and prances, she slithers on her belly like a reptile. Along the way, she integrates bits of 1960s crazes that virtually no one in her audience would remember, like the Swim, the Jerk and the Mashed Potato. Indeed, the second song, Holiday, is padded with a reprise to allow full exposure for her physical skills.
The lighting is controlled but frequently spectacular, and the sound mix -- augmented by recorded background vocals on several songs -- is nearly flawless, extracting the very best from her less-than-amazing singing talents. A deluge of white balloons bearing the inscription "Dreams Come True" descend from the ceiling during the tune Angel.
The production values of the show are so high, especially in a smoke-filled staging of Burning Up, and the segues from tunes like Borderline into Lucky Star so tight, Madonna would be hard-pressed to come off looking less than wondrous. At only one point does the show ever lag, when two of her three synthesizer players engage in a dueling keyboards instrumental while she makes a costume change to basic black.
PERFORMING AT home can have its drawbacks. Upon introducing the song Everybody with a sensual description of her "musical box," Madonna felt compelled to add the admonition, "Now Daddy, close your ears."
But playing before the home folks obviously pumped her up. Her rendition of the ballad Crazy for You was riveting. And her encore of Like A Virgin and Material Girl -- in which she arrives in a new-funk wedding gown, includes the bridge from Michael Jackson's Billie Jean, and leaves tossing play money and jewels behind her -- was filled with exuberance, perhaps because she had given her father, Silvio "Tony" Ciccone, a cameo role dragging his daughter offstage. She may be a lucky star, but she's a charismatic one.
Source: The Detroit News.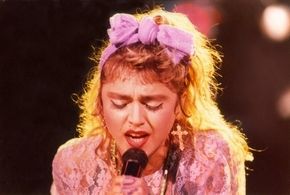 Madonna at Cobo Arena, Detroit in 1985:
"You know, I never was a homecoming queen or anything like that. But I sure feel like one now."
Photo: David Coates/The Detroit News.