Itinerant salesmen take advantage of Madonna's visit to make money
Des vendeurs ambulants profitent de la viste de Madonna pour se faire de l'argent.

12/12/08 - 18h17 - Atualizado em 12/12/08 - 18h17
Ambulantes aproveitam visita de Madonna para fazer dinheiro
'Vou garantir o fim de ano', diz Nilson Dias, que vende camisas com estampa da cantora
Biessa Diniz
Do EGO, no Rio
Ambulantes estão aproveitando a visita de Madonna no Rio para garantir um dinheirinho extra no fim do ano. Nilson Dias, que vende camisetas com a estampa da cantora, disse estar contente com a saída dos produtos. "Em pouco tempo, vendi seis camisas, cada uma a R$ 25. Vou aproveitar para garantir uma graninha para o fim do ano", comemorou. Satisfeito com as vendas, Nilson diz que pretende trabalhar todos os dias em que Madonna estiver na cidade. "Agora só paro quando ela for embora".
Source: EGO.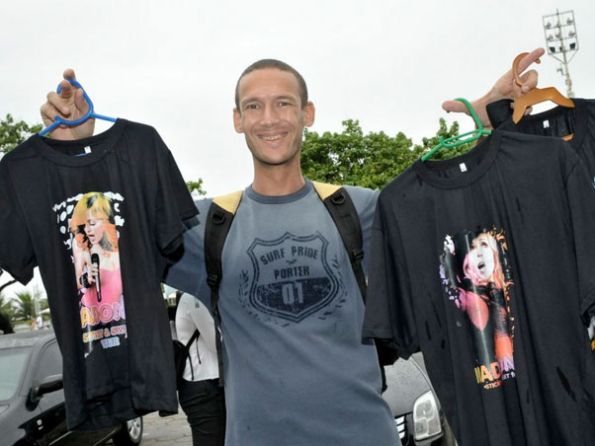 Nilson Dias, ambulante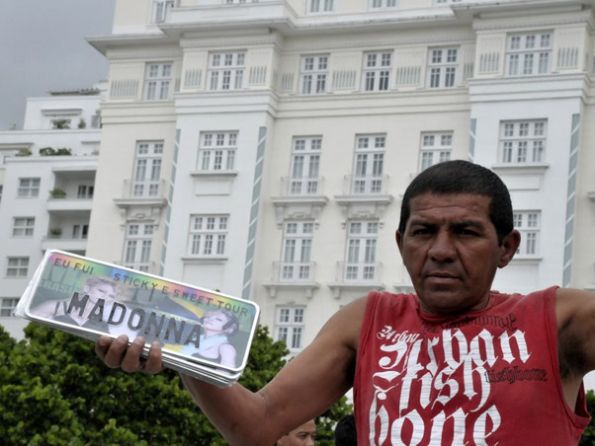 Francisco Carlos, ambulante
Photo: Juliana Rezende/Globo.