Madonna coming with her 'Sticky and sweet' tour in Brazil
Madonna arrive avec son 'Sticky and sweet' tour au Brésil.


14/12/08 - 08h00 - Atualizado em 14/12/08 - 15h07
Madonna dá a partida na turnê 'Sticky and sweet' no Brasil
G1 conta como deverá ser o show do Rio, faixa-a-faixa, neste domingo.
Apresentação repassa 25 anos de carreira da rainha pop.
Hermano Nogueira
Especial para o G1
Parecia relativamente longo o período de tempo entre a madrugada confusa de vendas de ingressos pela internet e o momento em que Madonna pisaria em solo brasileiro. Mas, o tempo passou e, junto aos enfeites natalinos, a diva loira chega para alegrar o fim de ano por aqui.
Alegrar e agitar. Num show planejado milimetricamente, as platéias de Chile e Argentina - primeiros destinos do braço sul-americano da turnê mundial "Sticky & sweet" – presenciaram as mesmas cenas vistas pelo G1 em Chicago, no fim do mês de outubro. Grande parte do público pula, canta e se agita freneticamente enquanto, no palco, a rainha do pop prova que 50 anos é uma idade que seu corpo insiste em ignorar.
Amparada por um time de 12 dançarinos, Madonna dança sem parar, pula cordas, e arrisca tocar guitarra, apoiada pelos músicos que aparecem até quando sua voz desliza e desafina – momentos que acontecem, mas, para a platéia, não ofuscam o brilho do espetáculo.
O show começa com uma animação de doces em 3D (o nome "Sticky & sweet" é uma referência a um pirulito, doce e grudento) e duas faixas do disco novo, "Candy shop" e "Beat goes on". Madonna surge em um trono, desce para o palco e pega carona em um Rolls Royce que desliza para um palco menor, no meio da pista. Megaprodução para deixar qualquer um de boca aberta pela primeira de muitas vezes ao longo das duas horas de espetáculo.
Após "Vogue" – faixa presente na trilha do filme "Dick Tracy", dos anos 90 –, Madonna sai do palco para uma versão instrumental de "Die another day" – esta do James Bond, de 2002 –, enquanto os dançarinos coreografam uma luta de boxe. É quando o segundo ato, em homenagem à Nova York dos anos 80, se inicia.
"Into the groove" e "Borderline", ambas do início da carreira de Madonna, e "Music", mais recente, são os destaques. "Spanish lesson", na seqüência, inicia a homenagem de Madonna aos ritmos hispânicos. Um dançarino de flamenco rouba a cena. "Miles away" e "La isla bonita" contam com um grupo de música cigana.
Os telões, espalhados pelo fundo do palco e em cima do palco central, não param, com homenagens a Barack Obama, mensagens de paz, videoclipes de todas as fases da cantora e as participações virtuais de Kanye West, Pharrell Williams e Britney Spears.
Timbaland e Justin Timberlake também aparecem, na abertura do último bloco, o mais empolgante da turnê que começou em agosto, no País de Gales e chegou, em Buenos Aires, a 53 apresentações. "Like a prayer", "Ray of light", "Hung up" e "Give it to me" são a quadra matadora que precede o fim súbito, avisado pelo Game Over estampado no telão.
Os fãs, a essa altura do campeonato, não contêm o êxtase, enquanto os curiosos perigam sair igualmente satisfeitos, tamanha a qualidade do espetáculo, uma experiência intensa durante as 24 músicas do set list.
Source: G1.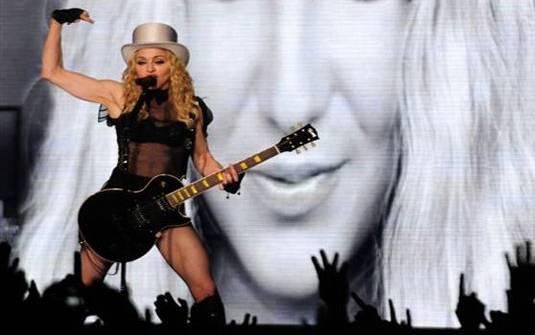 Cantora Madonna se apresenta no Chile.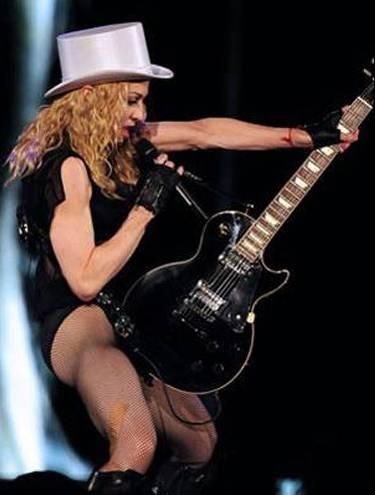 Como parte da turnê Sticky and sweet, Madonna toca no Chile.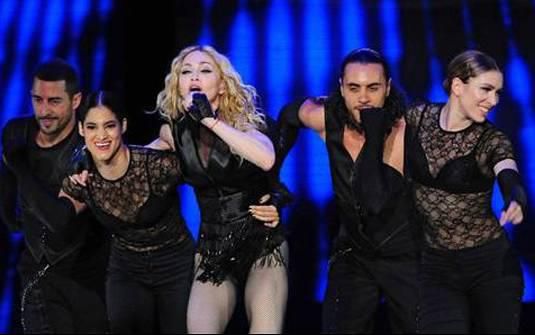 Madonna se apresenta com seus dançarinos no Chile.

Photos: AFP.