Abbie Cornish strips off in May 2011 issue of ''Esquire''
Abbie Cornish se déshabille dans le numéro de Mai 2011 de "Esquire".

Sucker Punch star Abbie Cornish strips off as she prepares to attend the London premiere of the film
By Daily Mail Reporter
Last updated at 9:50 PM on 30th March 2011
She's been working away in Hollywood for several years, winning acclaim for stellar performances in films like Bright Star, Stop-Loss and Somersault.
And now Abbie Cornish is trying a new character on for size - smouldering cover girl - to promote her sexy new role in girl power action film Sucker Punch.
The Australian actress strips off in the new issue of Esquire magazine ahead of tomorrow night's premiere in London.
Abbie, 28, has already been dubbed 'the new Nicole Kidman,' and has just wrapped filming as the title role in Madonna's upcoming Wallis Simpson biopic W.E.
But Sucker Punch, which co-stars Emily Browning of Lemony Snicket's A Series of Unfortunate Events, Vanessa Hudgens and Jena Malone, is a little more fast-paced.
'The action is top-notch new s*** you haven't seen before,' she enthuses. 'It's insane. In. Sane.'
The actress, who dated Ryan Phillipe after meeting on the set of Stop-Loss, smoulders in the new photoshoot for Esquire magazine.
The golden-haired beauty gazes at the camera with piercing hazel eyes first in a lacy bra, before stripping off completely and covering her modesty with her hand.
Her confidence comes in handy when it comes to filming sex scenes, she admits. 'They're (her co-stars) all mates, that's the thing.
'So I'm lucky. With friends, if someone's pants don't come off properly, or if something gets stuck, you just end up giggling.'
Cornish likens these scenes to alligators. She explains: 'Alligators have two eyelids; a clear set, so they can see, and another one which is opaque.
'It's like that when you're acting those scenes. You're looking through the clear eyelids. So it's not me doing the scene with Bradley, it's my character.'
Abbie has been busy promoting Sucker Punch and today arrived in London with co-stars Vanessa Hudgens and Jena Malone ahead of tomorrow night's Leicester Square premiere.
Away from the cameras, Abbie keeps busy with her never-ending list of extra-curricular hobbies. 'I'm into painting and street art and I'm a musician, I play piano,' she lists.
'And I love taking pictures or filming things documentary style. And I'm definitely active, I love surfing...'
Sucker Punch opens in UK cinemas on April 1.
Full feature appears in the May issue of Esquire, on sale Monday 4 April 2011.
Source: Mail Online.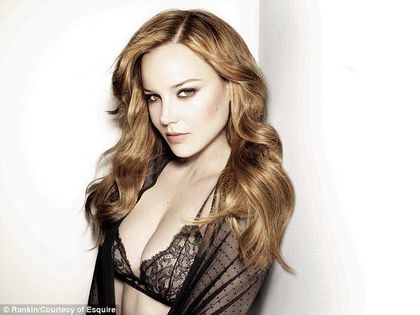 Abbie Cornish