Abbie Cornish to star in Madonna's new movie ''W.E''
Abbie Cornish va être la star du nouveau film de Madonna "W.E".

Abbie loves her Madge
By Baz Bamigboye
Last updated at 10:07 AM on 12th March 2010
Abbie Cornish, one of the stars of Madonna's new movie, has been sticking up for the singer, who's taken a lot of stick in the past for her forays into the world of film.
Abbie (as this column was first to reveal) will appear, along with Vera Farmiga, in a film based on the Edward VIII abdication crisis which Madonna will direct on locations in and around London in June, with some shooting in the South of France and New York.
'Madonna's a strong, independent woman who doesn't need a man to define her - and that's admirable,' Abbie told me when we met in the white-hot crush that was the Vanity Fair Oscar Party.
The actress was impressed with Madonna's detailed knowledge of the constitutional ramifications of the abdication.
'She's studied every aspect of what happened with Wallis Simpson and Edward VIII,' Abbie told me at the Sunset Tower Hotel on Sunset Boulevard, which had been commandeered for the night by the New York-based magazine. 'It's a fascinating insight into class and romance.
'Madonna's created a contemporary woman - who I will play - called Wally, who is fascinated by what happened to Mrs Simpson, and in a way her story mirrors certain aspects of what happened decades before.'
The film is called W.E. and Ms Farmiga will portray Mrs Simpson. Madonna will now focus on who will play the three main male roles: Edward VIII; Wally's wet husband; and Wally's lover, a Russian security guard.
Early drafts of the screenplay, written by Madonna and Alek Keshishian, were so bad one agent told me reading it made him 'lose the will to live'.
But Madonna and Keshishian have worked on it relentlessly and it now seems to be finding favour with some thespians.
I'm told that, out of politeness, a copy will be sent to Buckingham Palace in the summer for officials to have a look at, as it might help the film-makers with access to certain locations. Wonders never cease.
When I first started writing about this movie last year, I had it listed in my 'could be torture' file, but now I've shifted it to my 'could actually be fun' list. We'll see.
Source: Mail Online.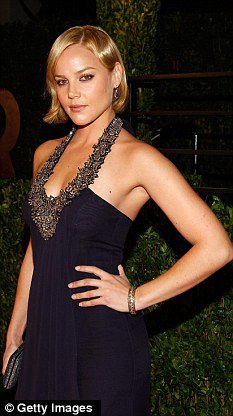 In the groove: Abbie Cornish.