Adam Lambert gets music lessons from Lady Gaga and Madonna
Adam Lambert a des leçons de musique de Lady Gaga et Madonna.

By Cameron Adams / The Daily Telegraph / September 22, 2010 7:30PM
When he was making his debut album, Adam Lambert was fresh out of the in-at-the-deep-end musical academy that is American Idol.
He'd sung with Kiss and Queen on the show and was bringing his own flamboyant pop dreams to life in the studio.
One of his musical collaborators had some advice for him. Her name - Lady Gaga.
"She told me about the previous three years," Lambert says. "She worked really, really hard before she made it. She told me there's no glamour, you don't get a lot of sleep, you don't get a lot of stability in your social life - you just have to count on yourself and go for it. It was a good pep talk. And she was right."
His pop brain-picking went straight to the top when he got an audience with Madonna.
"She told me that you can't get wrapped up in all the media and message boards, that everyone's going to have an opinion. People will criticise you especially when you're doing it well. You can't do much better than getting career advice from Madonna. She's the queen, right?
"I've learnt there are plenty of challenges, but if you work hard enough you can arrive. You find a spot for yourself and get to communicate with your art and hopefully inspire people. That's what I'm working towards."
So far it's working. Lambert is the first American Idol contestant since Kelly Clarkson to have international success, including Top 10 hits in Australia Whaddaya Want From Me and If I Had You from his album For Your Entertainment.
"I think my style has an international flavour. It's not your typical Americana type of performing," Lambert says.
"Internationally I don't think people shy away from flamboyance as much as Americans might."
This year Lambert has ticked another thing off his wish list - a headline tour. He's worked on the high-glamour costumes ("I was hardly going to get up there in a T-shirt and jeans") and has pieced together his Glam Nation show to "give my album a visual life, it tells an emotional story" including "an exploration of sexual energy" and a "post-coital" musical comedown among them.
His choice of bedroom partner - men - has been a major talking point. Lambert is hoping the media will soon find a new topic.
"I'm very comfortable with my sexuality and I have no qualms talking about it," he says. "It's important for me to be bold about it. There are not a lot of examples of that in pop culture. I'm happy to fill that role.
"But I did an interview the other day and every question was a sensationalised question about being gay and the gay lifestyle. There's a fine line.
"As open as I am to mentioning it, I'm not a gay spokesman. I'm a singer. I'm an entertainer who happens to be gay. I'm going to work hard with the next album to make that the message. When the first line is 'Openly gay singer Adam Lambert ...' it gets a little frustrating. The singer part should definitely come first. That's what I do."
Adam Lambert, Enmore Theatre, October 20. $63.50+bf, Ticketek.
Source: Adelaide Now.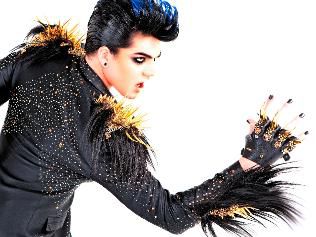 Listening to the experts ... Adam Lambert.
Photo: Supplied.