Adam Lambert tired of being asked about meeting Madonna
Adam Lambert fatigué d'être questionné sur sa rencontre avec Madonna.

Adam Lambert Takes On "Redundant" Interview Questions About Lady GaGa And Madonna Via Twitter
March 29, 2010 by TJ
Dear reporters, do your research and find new questions to ask Adam Lambert. That's the message he wanted to get across today (March 29) after several interviews in Germany left him feeling like a broken record.
He took to his Twitter account to vent his frustrations over constantly being asked about being the "male Lady Gaga," among other "redundant questions." "Just did my third German interview where I was told that I have said 'I'm the male Lady Gaga'. Lol I would never say that. I'm Adam Lambert," he tweeted. "Of course I'm a fan and have the highest respect for her and there some theatrical sensibilities that we share- but we are different people. The first question too many reporters ask has to do w GaGa. As much as I love her- it's becoming tiresome. Would prefer to discuss MY art. I'm sure she would agree."
He also wanted to move on from being asked about meeting Madonna, being asked to front Queen and kissing Ke$ha. "More redundant questions that can be put to rest: yes it was amazing meeting Madonna. No I wasn't asked to be Queen's new frontman. Aaaaand yes, I kissed Kesha. It was fun."
Adam's not the only one tired of the repeat questions; a Neonlimelight.com post detailing Lambert's interview with Nightline last month brought out dozens of fans who are sick of seeing him forced to answer the same round of questions over and over. "GaGa & Madonna AGAIN? How many times does he have to answer the same old questions?" commenter Teri wrote. Reader Kim agreed, adding: "Why the SAME questions over and over again? Get in there, research him and find some interesting topics to ask him about!"
Still, Adam wanted to make it clear that he is not an ungrateful interview subject. "Don't get me wrong- I actually really enjoy being interviewed. I'm not upset- just hoping that by tweeting, this questions will fade."
Source: Neon Limelight.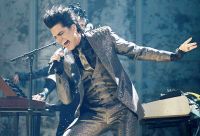 Adam Lambert