Adele could equal Madonna album chart record
Adele pourrait égaler le record de Madonna du classement des albums.

Page last updated at 16:02 GMT, Wednesday, 23 March 2011
Adele's 21 is expected to equal a Madonna record for longest serving UK number one album made by a woman.
The official midweek chart has 21 on top and Adele's single Someone Like You back at number one.
If 21 reaches nine weeks at the top it'll share the record with Madonna's Immaculate Collection, which was released back in 1990.
Meanwhile, New York band The Strokes reached second place in the midweek with their fourth album Angles.
Sixth appearance
Elsewhere Peter Kay and Susan Boyle's cover version I Know Him So Well hit went in at 14, making it Kay's sixth appearance in the chart.
The Glee cast's Thriller/Heads Will Roll single charted at 25, while Katy Perry's Firework was at number 37, having sold 650,000 copies since its October release.
Nicole Sherzinger's debut album Killer Love was at number seven midweek, Chris Brown's F.A.M.E. was number nine and Green Day's live album Awesome As .... was 10.
Source: BBC - Newsbeat.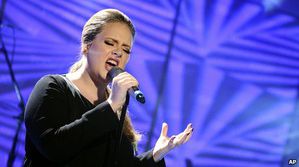 Adele