Adele, Madonna and Lady Gaga
Adele, Madonna et Lady Gaga.

Adele – triumph of the ordinary
Unlikely to ever appear in a giant egg, Adele's everyday universality has let her talent translate into phenomenal sales
Michael Cragg
guardian.co.uk, Tuesday 5 April 2011 18.00 BST
Last week Adele's second album, 21, sold 257,000 copies in the UK, a sales figure that would look incredible as an opening sales week for any album by any global superstar. The fact that the album was celebrating its 10th week at No 1, and that each of the previous nine weeks it had sold over 100,000 copies, makes what Adele has achieved look miraculous. The last female singer to spend that long at No 1 in the UK was Madonna in 1990 with her greatest hits compilation, The Immaculate Collection.
For Adele, the success of 21 is part of a perfect storm of talent, timing and a connection that's transcended gender, age and credibility. But what does it say about the state of the music industry? Does Adele's success signal a return to the mid-noughties musical depression, when the likes of James Blunt dominated the charts? Her success may well lead to a glut of similar acts aiming for an MOR audience, but that's more the fault of an industry desperate to recreate any kind of success by creating poor facsimiles until the world shouts "stop now".
What seems to have set Adele apart is her apparent ordinariness, bar that incredible voice. While Gaga parades around in a dress made of meat and Beyoncé orbits a world out of touch to the majority of most human beings, Adele's chain-smoking, girl-you'd-like-to-go-to-the-pub-with persona stands out. Even for a British act, her unstarriness goes against trend, with fellow Brit school alumnus Jessie J adopting a very American habit of over-emoting, talking about a "journey" and making the idea of being a pop star seem fairly arduous.
It's this universality and broad appeal that's helped her translate talent into sales. While the first single from 21, Rolling in the Deep, appealed to Radio 1 listeners and bloggers with production by Paul Epworth and a remix by Jamie from the xx, the second single, Someone Like You, is a Radio 2 staple, a stripped-back, piano-augmented ballad that silenced the cavernous O2 Arena during this year's Brit Awards. The broadsheet press can write pages and pages on her safe in the knowledge that there's enough of a muso connection – Rick Rubin worked on the album, there's a cover of the Cure, Mumford & Sons were an influence – while the gossip magazines have latched onto the fact that the album is one long break-up record, eager to find the ex.
In 1990, Madonna was a global superstar with a back catalogue of era-defining hits to her name. She was untouchable and, tellingly, unknowable. She was (and still is) a megastar, but a megastar of a different age. These days, we want to know a bit more about our artists; that they have relationship problems, walk their dog. Her selling point and appeal is precisely the fact that she exists at the point between everyday ordinariness and pop star.
She's not boring, but at the same time she's probably unlikely to arrive at the Grammys in a giant egg. Her success is testament to the power of good songs and the fact that if you can create a buzz (as she did in November with a stark reading of Someone Like You on Jools Holland) and harness that buzz through a solid album, then it can still translate to sales. For now, Adele's success should be celebrated, not least for becoming an unlikely global star on her own terms. The danger is that we're headed for a glut of fairly "beige" pop, a situation that led to the "birth" of Gaga a few years back. Pop goes in cycles and it feels like we're headed back towards the very middle of MOR.
Source: The Guardian.

How Adele conquered the world
Adele has just smashed Madonna's record for longest spell at the top of the album chart for a female artist – and looks likely to beat Bob Marley's all-time record
Tim Jonze
The Guardian, Wednesday 6 April 2011
Back on 16 November last year, someone going by the helpful name of xxxxWGDxxxx played a small part in shaking up the music world. That was the date they logged on to YouTube and uploaded a clip of Adele singing her new track Someone Like You on Jools Holland. The video was soon being passed around feverishly by music fans, normally with some accompanying text saying something along the lines of "wow".
There was something about the way the 22-year-old stood there and sang, displaying diva-like confidence yet wearing her heartache on her sleeve, that proved she had matured as an artist since the modest success of her debut album, 19. Suddenly, people became very interested in hearing more from the follow-up.
Since then, that understated song has helped cause a whole lot of noise. On Sunday, Adele's second album, 21, smashed Madonna's record for the longest consecutive weeks spent at the top of the album charts by a female solo artist. It also looks likely to beat the all-time record held by the Bob Marley and the Wailers compilation Legend. And her Brits performance of Someone Like You was deemed to be the highlight of the night by most critics who watched the ceremony. Adele's success isn't settling for owning the UK either – 17 European countries have had their album top spot hogged by 21, as has the US.
So why has Adele's star risen so swiftly and why is it connecting now? Yes, she has got a great voice and decent songs – but clearly there's something special going on here that sets her apart from the crowd of white female soul singers she was originally lumped in with (Duffy, Joss Stone, Pixie Lott et al). What is it?
The answer involves a myriad different factors but perhaps the best place to start is with her record label, XL Recordings. They spotted in Adele not just a singer with a great voice but an artist who could be developed as her career progressed. That's why she was given the freedom to pick who she worked with, choose which tracks to release as singles and have a say on how her records were marketed. XL even trusted her to make the potentially damaging decision not to play music festivals (most record labels would have had a fit at this). If Adele initially struggled to stand out from the crowd, it was her decision to sign with XL that eventually helped her stake out ground as a credible artist. Suffice to say, you probably would not see her cycling around a TV studio singing about Diet Coke.
Despite these creative freedoms, it would be unwise to make out that 21 was pushing any musical boundaries. The focus is on big, piano-led ballads, each one transformed by a devastatingly huge soul voice. People can crow at the lack of innovative sonic ideas on display, but they are not what find you an audience, from NME-reading teens to aunties humming along to Radio 2. It's also worth bearing in mind that people like clinging to "safe" sounds during times of turbulence, making 21 something of a comfort blanket in the midst of a recession.
"Adele is one of those increasingly rare artists who has the talent and appeal to reach beyond her typical fanbase and connect with a much broader audience," says HMV spokesman Gennaro Castaldo. "She's now enjoying a wonderful virtuous circle where her continuing success feeds in to more coverage and even greater word of mouth, which, in turn, keeps the sales clocking up."
Of course, having such wide appeal is bound to inspire criticism, and plenty of people find Adele's sound too middle of the road to be truly inspiring – some critics like to use the term "A-dull". But that jibe misses a key point – that Adele packs a personality as big as her voice.
This is something NME editor Krissi Murison credits her success to. "When you look at the British female songwriters who have been really successful in recent years – Amy, Florence and Lily – the one thing they have in common is their huge characters. Adele is similar in that she's incredibly hypnotising when you meet her in person. She's also pretty normal. She doesn't have a crack habit and she doesn't look like she grew up with wolves in an enchanted forest. It's that essential human-ness that so many people love."
She may have attended the Brit School, but she is as far from the dead-eyed, all-singing, all-dancing stage-school desperado as imaginable. Her cockney accent does nothing to soften the fact that she's not one for airs and graces. During a recent Observer interview, for instance, she broke the ice with the journalist by discussing her struggles with irritable bowel syndrome. When asked how she felt minutes before wowing the Brits crowd, she answered simply: "Shat myself."
In a world where record labels are constantly trying to find the new Lady Gaga, it's perhaps obvious why people would warm to a size-14 girl from Tottenham in north London who prefers her language, rather than her photoshoots, to be racy. Adele's way of presenting herself is at odds with many of her flesh-baring peers and nowhere is this demonstrated better than through her TV performances – where the music, rather than the outfits, unleash her smouldering sexuality. On this front her TV plugger – Craig McNeil from Beggars – has played something of a blinder. It would have been McNeil who got Adele on to that Jools Holland show and who also secured her the Brits slot. Her music has also made its way on to all sorts of emotional TV montages, a particularly memorable one being a tear-jerker on this year's Comic Relief. The internet era may have made music accessible to all, but only on TV can songs be given the kind of emotional backdrop to unite such a broad audience at once.
You get the feeling even XL weren't prepared for this. After all, Adele's upcoming tour will see her playing such enormodome venues as, er, Shepherd's Bush Empire and Leicester's De Montfort Hall – hardly venues fit for a star who has just knocked Madonna off her perch.
Still, this just adds to the Adele story – an ordinary girl genuinely shocked to be living the kind of "dream" that shows such as The X Factor promise but can never truly deliver. It is perhaps this unexpected nature to her success that makes it sweetest of all.
Source: The Guardian.

Move over, Madonna
Adele's no-nonsense style is far-removed from the likes of Madonna and Lady Gaga
Rosie Swash
The Guardian, Wednesday 6 April 2011
Madonna has broken many records in her time: biggest-selling female recording artist; highest-grossing solo touring artist; a world record for the most costumes changes in a film (Evita, 85). So it's hard to imagine Madonna will be losing much sleep over her newest chart rival. But unlike Britney and Christina Aguilera, who have tapped into Madonna's blueprint for global superstardom (sex + hard work + a bit more sex = success), 22-year-old Adele Adkins has managed to usurp Madonna's record for the longest consecutive run at the top of the UK album charts by a female artist without really seeming to try.
Lady Gaga, like Madge, embraces a carousel approach to her identity, thus grabbing the spotlight without ever offering a glimpse behind the lobster-adorned facade. Beyoncé has the aerobic dance routines as well as the ability to market herself as more of a multi-platform franchise than a popstar. Jessie J, who sings about Doing It Like a Dude, projects an aggressive image amalgamated from just about every other female popstar in history, an eye-catching move that almost distracts from her vacuous music. All these ladies work so damn hard to achieve success, and Adele makes it look effortless, mainly because she hasn't the will to be contrived.
Madonna is shrewd, guarded, sexually aggressive. Adele is soft, self-effacing, prone to bouts of hysterical laughter, and still discussing her inability to manage her dog's toilet habits on Alan Carr's chatshow. During her last tour, Madonna did an entire dance routine with a skipping rope. Look at me, she seemed to be saying, I'm 52 and I can still win! She sings about virginity and getting into the groove, but is monotonal when she tries to sing from her heart. Adele took to the stage at this year's Brit awards with nothing but a piano for company and brought a room full of drunken suits and fellow popstars to a standstill with a song about having your heart broken all over again when your old love moves on to a new relationship without you.
It's not conical breasts or extravagantly budgeted music videos, but in doing nothing but being herself, Adele is exposing what a rare treat that is in the world of pop.
Source: The Guardian.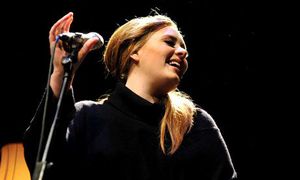 Adele's album has been at No 1 for longer than any female singer's since Madonna in 1990.
Photo: Rex Features.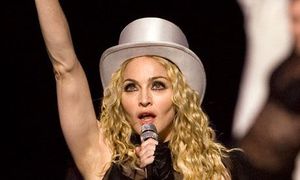 Where Madonna does contrived routines, Adele just sings her heart out.
Photo: Tom Mihalek/AP.