After Madonna, Lady Gaga meets Alex Rodriguez
Après Madonna, Lady Gaga rencontre Alex Rodriguez.

Lady Gaga gets insider tour of Yankees clubhouse, reportedly meets Alex Rodriguez, Robinson Cano
BY Kristie Ackert
DAILY NEWS SPORTS WRITER
Saturday, June 19th 2010, 1:29 PM
Lady Gaga got a glimpse behind-the-scenes with the Yankees Friday night, and a few Yankees got a glimpse of a lotta Gaga.
The singer, who has been called this generation's Madonna, was dressed in just a leopard skin beret, Yankee jersey, lingerie and stockings. She was escorted into a private area of the Yankees clubhouse Friday night, where she reportedly got to meet Alex Rodriguez, who once dated the original Madonna, and Robinson Cano.
The city's newest risqué baseball fan watched Game 1 of the Subway Series from a suite on the third baseline. Unlike her trip to Citi Field last week, where she flipped off photographers, the self-admitted Yankees fan waved and blew kisses to the crowd.
Her arrival in the clubhouse was similar to that of a visiting head of state with uniformed and un-uniformed police officers and security holding media out of the clubhouse for a few minutes to secure her arrival. After her visit to the inner sanctum of Yankeeland, Gaga was whisked by security out a back exit.
Source: NY Daily News.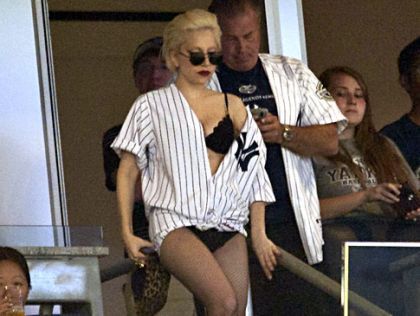 Lady Gaga wows the crowd at Yankee Stadium as the singer takes in the Subway Series in the Bronx Friday night.
Photo: Sipkin/News.