Alex Rodriguez in ads for Madonna's Vita Coco this Summer
Alex Rodriguez dans des pubs pour Vita Coco de Madonna cet été.

Official Press Release - Communiqué Officiel de Presse

Alex Rodriguez Turns to Vita Coco as His Hydration Drink of Choice
One of Baseball's Biggest Names Signs on as the New Face of Vita Coco
June 08, 2011 08:05 AM Eastern Daylight Time
NEW YORK--(BUSINESS WIRE)--Today, Vita Coco, the nation's best-selling coconut water and one of the fastest growing beverage brands in the U.S., announced that Alex Rodriguez (A-Rod), a long time fan of the brand, will be featured in Vita Coco's advertising campaign launching in New York this summer – showcasing to consumers Vita Coco's growing popularity as the hydrating drink of choice among athletes.
"The appeal of the Vita Coco brand continues to astound us," says Michael Kirban, co-founder and CEO of Vita Coco, "and we're thrilled to have one of baseball's greatest onboard. A-Rod has a unique connection to his fans and this campaign is only going to strengthen consumers' connection with the Vita Coco brand."
Vita Coco, which is Never from Concentrate and contains the five essential electrolytes, 15 times the potassium of a traditional sports drink and 100 percent of the daily requirement of vitamin C, delivers super-hydrating functionality with every sip. A-Rod prefers all-natural Vita Coco as an alternative to artificial sports drinks – its super-hydrating effects help him perform at his best on and off the baseball field.
"My trainer suggested I try Vita Coco because of all the electrolytes and potassium, and now I drink it every day," says Alex Rodriguez. "The stuff really works."
As part of A-Rod's partnership with the brand, the star athlete will appear in Vita Coco's newest ad campaign launching this July in the New York market. The campaign will activate through out-of-home, radio and digital platforms, and coincides with Rihanna's national advertising campaign for Vita Coco, also to be released this summer. Following Rihanna, A-Rod is the newest addition to the long list of celebrity fans of Vita Coco, including Madonna, Matthew McConaughey and Demi Moore.
"Research has found that natural coconut water hydrates as effectively as the leading sports drink, with significantly lower sodium (30 mg/8.5 ounces vs. 110 mg/8 ounces), fewer calories, less sugar, and much more potassium," said Dr. Douglas Kalman, Sports Nutritionist, Florida International University and a Director in the Nutrition and Endocrinology Division at Miami Research Associates. "In a sodium rich culture, Vita Coco is the healthier, all-natural choice to hydrate the sporting body".
About Vita Coco:
Vita Coco® is the brand that started America's craze for fresh coconut water. In the U.S. Vita Coco is sold at over 20,000 retailers including Whole Foods Market, GNC, Kroger, Publix, Ralph's, Stop & Shop/Giant, Costco select Wal-Mart stores and many chain and independent groceries. It is also sold in most major U.S. airports and university campuses, as well as online at Amazon.com.
Award-winning Vita Coco, which counts Madonna, Demi Moore and Matthew McConaughey amongst its investors, is one of the most sought-after products in the beverage aisle.
Available in six great tasting flavors - Pure, Açaí & Pomegranate, Tangerine, Passion Fruit, Pineapple and Peach & Mango - Vita Coco was founded in 2004 and is based in New York City.
For more information about Vita Coco and its role in summer hydration, visit www.vitacoco.com/mediacenter or www.vitacoco.com.
Source: Business Wire.

Alex Rodriguez Is Cuckoo For Coconut Water (And It's All Madonna's Fault)
Posted 16 hrs ago by Ellen Thompson
Never underestimate the power of Madonna.
While Yankees third baseman Alex Rodriguez hasn't dated the pop icon since, let's see...Kate Hudson, Cameron Diaz...three years now, it looks like she still has a hold on him. Well, when it comes to his preference in tropical beverages, at least.
It turns out A-Rod can't get enough of the stuff. So much so that the guy's found himself switch-hitting on endorsement deals. According to the Post, the ballplayer has been an investor in Zico coconut water for more than two years, but came out yesterday endorsing its competitor Vita Coco. (Can't really blame him: Coconut water is the crack of the juice world.)
"Since Zico changed their formula to concentrate, I felt that the taste and functionality was compromised and that's when I started to only drink Vita Coco," Rodriguez said in a statement. "I love the taste and purity of Vita Coco."
Oh, and it just so happens Madonna is an investor in Vita Coco. So for all we know, she could've been switching out A-Rod's Zico with Vita Coco the entire time they were dating. And before he knew it, he had developed that taste for the sweet, sweet nectar.
Source: Clutch Blob/MTV.

Coconut water brand Zico calls Alex Rodriguez nuts for appearing in ads for rival Vita Coco
A-Rod plays on both sides
Last Updated: 2:20 AM, June 9, 2011
Posted: 1:21 AM, June 9, 2011
Alex Rodriguez looked like a nut yesterday after backing two rival coconut water brands. "My trainer suggested I try Vita Coco because of all the electrolytes and potassium," said A-Rod in a statement announcing he'll appear in ads for Vita Coco. "Now I drink it every day." But A-Rod has been an investor in Vita Coco's competitor, Zico, for more than two years, according to Zico CEO Mark Rampolla. He only learned that A-Rod had struck a deal to promote his rival when a Vita Coco press release went out yesterday. "I was definitely surprised," said Rampolla. He wouldn't disclose the size of Rodriguez's investment, except to say, "At his level, it's not a make-or-break [amount], but most people would love to be able to make an investment like that." A-Rod's manager, Guy Oseary, and his ex, Madonna, are both investors in Vita Coco. Rampolla said he would be "happy to give A-Rod his money back." But one source familiar with A-Rod's move said, "It's like betting against your own team." Oseary didn't get back to us. A-Rod's rep declined to comment.
Source: NYPOST.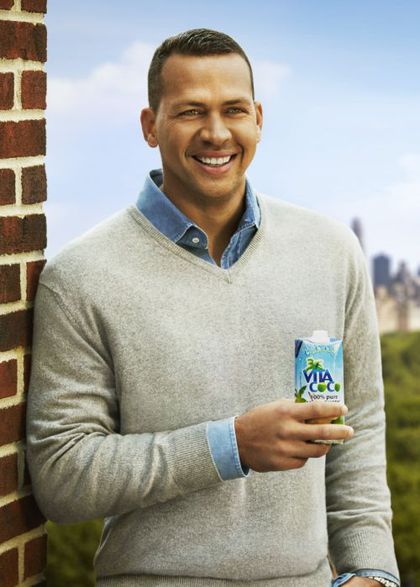 Alex Rodriguez joins Vita Coco as the new face of the brand.