Andrea Riseborough, a chameleon in Madonna's ''W.E.''
Andrea Riseborough, un caméléon dans "W.E." de Madonna.

Andrea Riseborough, film chameleon
Tuesday, September 14, 2010 4:00 PM
James Bradshaw
Andrea Riseborough, the young woman The Hollywood Reporter has dubbed TIFF 2010's "It Girl," has no fewer than three films at this year's festival. But she nearly missed out on one of them.
The director of Brighton Rock, Rowan Joffe, conceded Tuesday that Carey Mulligan, a still younger British star, was approached first about playing the character of Rose in the film.
"I think both Carey and Andrea are very good actresses. What maybe gave Carey the edge at the time was Carey was a rising star then, and that was useful for the movie, but it was a very tough call to make," Joffe said in an interview on Tuesday morning.
But then Mulligan's schedule got complicated and Joffe's creative team rushed back to Riseborough to beg her to sign on – and "we never looked back," Joffe said.
"I think Andrea is the most extraordinary actress of her generation because the one thing she has that no other actress has is a chameleon-like ability not just to become completely different from one character to another, but to the extent that some critics don't even recognize her, physically, from one movie to another," Joffe ventured.
Riseborough, 28, comes off as a different breed of movie star. When greeting visiting journalists, she grasps a proffered hand with both of hers and says she actually likes doing interviews as a way to digest a finished film. And she tries to explain the impressive range of her characters – from a young Margaret Thatcher in a 2008 film to a role she is currently shooting as Wallis Simpson, under the direction of Madonna – as perfectly natural.
"Nobody wants to be type-cast as an actor," she says, halting. "Why am I even saying that? That's a stupid thing of me to say."
Then, trying again: "I'm not interested in playing very similar parts over and over again, purely because that's not fulfilling. I would be frustrated, I would be artistically champing at the bit for something other. So in that sense, it's just sensible to adopt the rhythm of a different person."
So star-spotters and fans beware: The next time you see Riseborough, the chameleon may have changed colour again.
Source: The Globe and Mail.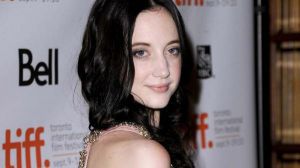 Andrea Riseborough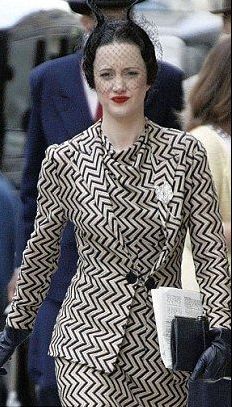 Andrea Riseborough as Wallis Simpson on the set of Madonna's "WE".