Angélica and Luciano Huck on Madonna's social projects in Brazil
"The fact is that Madonna likes and always liked Brazil", writes Luciano Huck.


"Angélica et Luciano Huck sur les projets sociaux de Madonna au Brésil.

"Le fait est que Madonna aime et a toujours aimé le Brésil", écrit Luciano Huck.



13/11/09 - 01h41 - Atualizado em 13/11/09 - 02h41
'O fato é que Madonna gosta e sempre gostou do Brasil', escreve Luciano Huck
Apresentador e Angélica jantaram com a cantora na noite desta quinta-feira, 12
Do EGO, no Rio
Assim que saíram da casa do empresário Eike Batista - onde jantaram com Madonna na noite desta quinta-feira, 12 -, Luciano Huck e Angélica usaram suas respectivas páginas no Twitter para contar suas impressões sobre a diva.
"Não é a toa que Madonna é Madonna. A mulher é realmente especial. Simpática, gente boa e gosta de verdade do nosso país. Sorte nossa!", escreveu o apresentador.
Ele aproveitou, também, para comentar o projeto social idealizado pela cantora: "Seu projeto social é consistente. Tem foco, estrutura, missão e metas claras e resultado. Contribuir para que as crianças consigam olhar para dentro de si mesmas com mais clareza. Para, assim, ocupar com orgulho um lugar no mundo. Este ímpeto pró-ativo é resultado de um curso ministrado como uma cadeira no currículo escolar. O método e material já estão desenvolvidos. No Brasil, já existem projetos pilotos bancados por ela e com resultados incríveis. Dois no Rio e dois em SP. Uma iniciativa de longo prazo, mas que faz todo sentido. Sem olhar para dentro e entender, fica muito mais difícil entender o mundo lá fora. O fato é que Madonna gosta e sempre gostou do Brasil. Que bom. Ouvimos isso da boca dela e com todas as letras."
Angélica foi mais breve em seus comentários, mas não poupou elogios à diva. "Passadinha só pra dizer que hoje tive a oportunidade de conhecer melhor uma grande estrela, uma grande pessoa. Estou muito bem impressionada. Madonna (é) quase uma brasileira , quase uma carioca", escreveu a apresentadora.
Source: EGO Globo.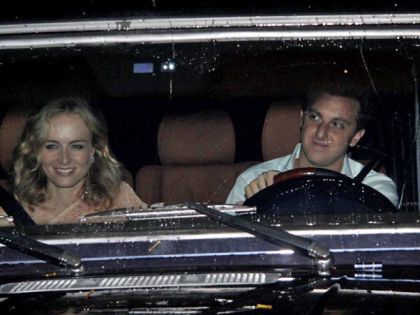 Angélica e Huck depois de jantar com Madonna.
Os apresentadores foram alguns dos convidados do empresário Eike Batista para o jantar com a diva.