Anni-Frid from ABBA: ''I'm very angry that Madonna got in before us''
Anni-Frid d'ABBA: "Je suis très fâchée que Madonna soit entrée avant nous".

ABBA, Hollies, Genesis, Iggy Pop enter Rock Hall
By DAVID BAUDER, AP Entertainment Writer – Tue Mar 16, 3:39 am ET
Associated Press writers John Carucci and Ryan McLendon contributed to this report.
NEW YORK – An English band steeped in harmony, a reggae pioneer, progressive rockers who thrived despite a defection, four Swedes who combined their nation's traditions with their rock heroes and a man who prowled a ballroom floor singing "I Wanna Be Your Dog" wouldn't seem to have much in common.
For a night they did, as The Hollies, Jimmy Cliff, Genesis, ABBA and Iggy Pop's Stooges accepted induction into the Rock and Roll Hall of Fame on Monday — a ceremony almost as notable for who wasn't there as who was.
ABBA sold some 100 million records with hits such as "Waterloo," "Dancing Queen" and "Knowing Me, Knowing You" before disbanding in 1982. Songwriter Benny Andersson described how the melancholy of the "vodka belt" so far north, the pre-rock era music they heard on Swedish radio and the songs of their rock 'n' roll heroes all found their way into ABBA's material.
Andersson and ex-wife Anni-Frid Lyngstad attended the ceremony at the Waldorf Astoria Hotel. Agnetha Faltskog, who has a fear of flying, and Bjorn Ulvaeus, who had a family commitment, did not.
"I'm old enough to admit to the fact that I think we did a great job," Lyngstad said.
Keep that in the past tense: Lyngstad told the audience that ABBA would never perform again. She brought along her grandson, a heavy metal musician who nonetheless appreciates grandma's music. Actress Meryl Streep, who was in the "Mamma Mia" movie that introduced ABBA's music to a new generation and older ones that didn't pay attention at the time, was also there.
The audience at the Waldorf and watching on the Fuse TV network got one-fourth of ABBA on stage. Andersson played piano as country star Faith Hill sang "The Winner Takes It All."
Backstage, Lyngstad feigned anger that it had taken so long for ABBA to be voted in.
"I'm very angry that Madonna got in before us," she joked.
The Michigan-based Stooges never sold many records. But the brutal force of their 1973 album "Raw Power" influenced the punk movement to come, and the rubber-limbed Pop was an electric frontman.
Pop delivered middle-finger salutes to his audience and, at the black-tie affair, had his shirt off even before performing "Search and Destroy." He prowled through the audience for "I Wanna Be Your Dog," and the Stooges were joined onstage by inductor Billie Joe Armstrong of Green Day and Eddie Vedder of Pearl Jam.
"Roll over Woodstock," Pop said. "We won!"
For all their toughness, the Stooges seemed genuinely touched by the honor. Scott Asheton paid tribute to his brother and bandmate Ron Asheton, who died last year. Pop choked back tears in thanking his colleagues for getting back together and working.
Another non-performing inductee was David Geffen. Before he spread his influence to other parts of the entertainment business, Geffen started the Asylum and Geffen record labels.
The Rock and Roll Hall of Fame and Museum is in Cleveland.
Source: AP.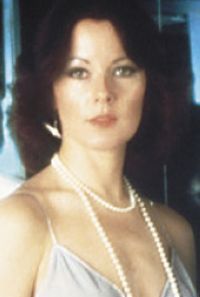 Anni-Frid Lyngstad from ABBA