At a cocktail party at the L.A. home of Madonna's manager Guy Oseary
A une soirée cocktail à la maison de L.A. du manager de Madonna, Guy Oseary.

Jeremy Renner Denies Hitting on Jessica Simpson
Us Magazine - 09/03/2010
The Hurt Locker star Jeremy Renner is squashing a report that he recently made the moves on singer Jessica Simpson.
People.com reported that at a recent cocktail party for his movie at the L.A. home of Madonna's manager Guy Oseary, Renner, 39, "spent the night hitting on Jessica like crazy. They were really flirting up a storm."
But Renner - who brought his mom to the Oscars Sunday - told UsMagazine.com Sunday at the Governor's Ball that he only met Simpson, 29, for "three minutes."
"Her hair stylist [Ken Paves] did my mom's hair so we were talking about that -- and then all of a sudden we're dating!" he told Us.
Asked if he's seeing anyone, he told Us, "Im single -- and looking!"
But that doesn't mean he's a Hollywood player.
"I'm not a ladies man!" Renner told Us. "I'm a working man! That's all."
Source: omg!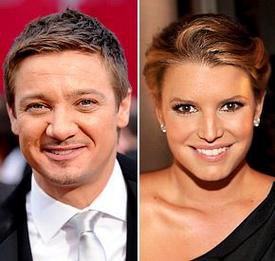 Jeremy Renner and Jessica Simpson
Photos: Alberto E. Rodriguez/Getty Images; Kevin Mazur/VF1/WireImage.