Backstage Video: D&G AW 2010/11 ad with Madonna washing the floor
Vidéo des coulisses: Pub D&G AH 2010/11 avec Madonna lavant le sol.

Exclusive preview of a one-of-a-kind Dolce&Gabbana Madonna backstage video
September 17, 2010
Watch the trailer of a behind the scenes short movie shot during the making of Dolce&Gabbana's womenswear winter 2011 campaign directed by Steven Klein. A backstage view to be watched instore in Milan, London, New York, and Los Angeles for now and from Monday on YouTube.

Just Revealed - Exclusive - Madonna Backstage Video
Posted Sep 17, 2010
Watch the trailer of a short-movie that has been unveiled today and discover in which cities around the world it is to be seen.
Milan, London, New York, and Los Angeles: the lucky inhabitants of these cities or visitors should run and take an instore seat. *
To be seen: Madonna working on a shoot directed by Steven Klein for Dolce&Gabbana's winter 2011 campaign. We revealed exclusively last month the undisclosed campaign shot of la Donna washing the floor, now get a preview of the fun she had while getting the perfect attitude. Dressed in a Sicilian über-sophisticated way, she shows that work is a fashion celebration.
A digital PLUS that is far from being an option, discover while watching Madonna how you can share worldwide and instantly your impressions and thoughts from and on the Dolce&Gabbana store on Via Spiga 26 (Milan)... More to read on this tomorrow on Swide.
* The Video will be featured later on this year in Paris, Tokyo, Osaka, Hong Kong and Shanghai.
Source: Swide Magazine by Dolce&Gabbana.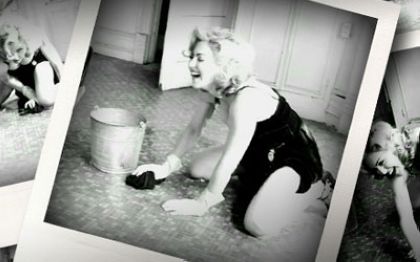 Photo: Steven Klein for Dolce&Gabbana.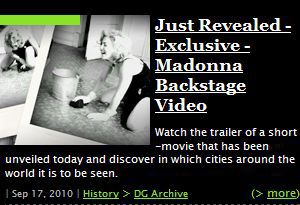 From Dolce&Gabbana Channel: