Brahim Zaibat confirms Madonna concert in Zürich in June 2012
Brahim Zaibat confirme le concert de Madonna à Zürich en Juin 2012.

Brahim Zaibat confirms Madonna concert at Letzigrund, Zürich in June 2012: «Mitte Juni sind wir für ein Konzert im Letzigrund in Zürich.»

From Blick:

Madonna & ihr Lover im Schnee
GSTAAD BE - Der Welt-Star beim Ski-Kurs und mit Stardesigner Valentino auf dem Sessellift.
Von André Häfliger und Qwer Jorns (Text & Fotos) | Aktualisiert um 01:17 | 29.12.2011
Gestern, 16.28 Uhr, an der Talstation des Wasserngrat-Sessellifts oberhalb von Gstaad BE. Ein illustres Quartett gondelt aus 1940 Metern Höhe heran: Superstar Madonna (53) hält mit schwarzer Zipfel-Skimütze Händchen mit ihrem Freund, dem französischen Tänzer und Choreografen Brahim Zaibat (24).
In gemütliche, dicke Mäntel eingepackt neben den beiden: der italienische Modezar Valentino (79) und sein Lebenspartner Giancarlo Giammetti.
Vom Skilehrer wird sie gelobt
Nach einem sonnigen Skitag im exklusiven Eagle Ski Club hat Madonna noch nicht genug von der Piste. Mit ihrem Gstaader Skilehrer Ernest Marmet übt die Pop-Ikone noch ein paar Mal auf dem Wispile-Hang. Und wird nach ihrem zweiten Tag auf Ski gelobt. «Ich habe selten jemanden gesehen, der so schnell Fortschritte macht wie sie», schwärmt Marmet, seit Jahren auch Valentinos Ski-Chef.
Madonna geniesst ihre Silvester-Ferien in vollen Zügen. Im Berner Oberland kann sie entspannen, der Megastar kann einfach Mensch sein. Sie und ihr 29 Jahre jüngerer Freund werfen sich immer wieder verliebte Blicke zu. Ihr Sohn Rocco (11) aus der Ehe mit Regisseur Guy Richie (43) ist auch dabei.
Sie fühlt sich wohl im Berner Oberland
«Es ist einmalig schön hier», strahlt Madonna. Sie und ihr Anhang sind Gäste von Valentino, der seine Winterferien seit Jahrzehnten hier verbringt.
Irgendwann ist auch die topfitte Madonna müde. Ihr Brahim bringt sie im BMW ins Chalet des Gastgebers. Allerdings, wie er BLICK verrät, nicht ohne heisse News für alle Madonna-Fans: «Mitte Juni sind wir für ein Konzert im Letzigrund in Zürich.»
Dort ist die Schneekönigin dann wieder die Queen of Pop.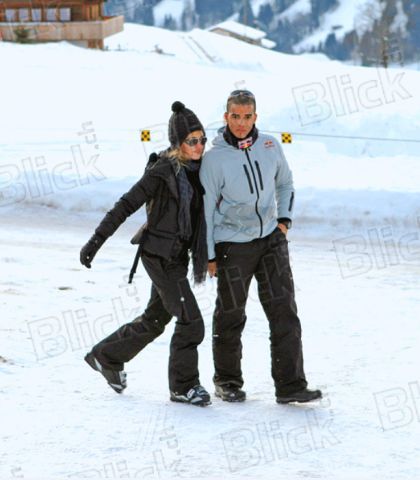 Madonna and Brahim Zaibat in Gstaad.