Brazilian actress Nana Gouvêa wanted to be Madonna
L'actrice brésilienne Nana Gouvêa voulait être Madonna.

13/11/09 - 19h40 - Atualizado em 13/11/09 - 19h42
'Madonna roubou meu primeiro lugar', lamenta Nana Gouvêa
Atriz faz brincadeira no Twitter
Do EGO, no Rio
A atriz Nana Gouvêa, que nesta sexta, 13, figurava no primeiro lugar entre os famosos no EGO, perdeu para Madonna em popularidade.
"Tô louca com a Madonna! Ela roubou meu 1º lugar nos famosos do EGO, tava tão feliz!!!", escreveu Nana no Twitter, enquanto Madonna fazia a festa dos cariocas no Morro Santa Marta.
"E o pior é que quando eu era menina queria ser a Madonna quando crescesse!!!!!!!!!! Ai Jesus!!!!!!!!!!", acrescentou a atriz.
Source: EGO Globo.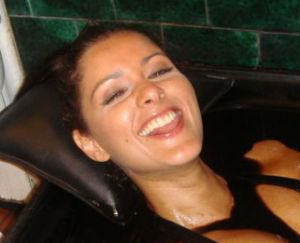 Nana Gouvêa