BREAKING NEWS: Lourdes set to star in Madonna's movie ''W.E.''
BREAKING NEWS: Lourdes prévue pour jouer dans le film "W.E." de Madonna.

Celeb Children Grow Up So Fast: Lourdes Maria Ciccone Leon
Jul 14 05:27am
Celebrity Kids Grow Up So Fast
Blink And You Missed These Famous Kids Growing Up
Kateri Wozny, Contributing writer
Hollywood kids. We want to keep them young forever.
Thanks to their celeb parent(s), they've got it made: the clothes, the toys, the latest technology and the price of fame that comes with it.
Each kid tries to break out of the shadow of his or her mom and/or dad to find their own identity by venturing off into what possibilities may hold for them.
And in doing so they grow up quickly, whether they do so in the limelight or behind the scenes. Look the other way for a second and before you know it Maddox Jolie-Pitt, the adopted 8-year-old son of Brad Pitt and Angelina Jolie, will be getting his learner's permit.
As a child of a pop king, pop queen, a well-known rapper, a couple legendary rockers and one that broke out on his own, it's hard to believe that the days of childhood innocence are gone and adulthood is just around the corner.
Here are the top five celeb kids who we still see as little but grew up oh so fast.
- Up First: The Prince Of Pop?
No. 5: Prince Michael ("Blanket") Jackson II - Age 8
- Up Next: Young Material Girl
No. 4: Lourdes Maria Ciccone Leon - Age 13
- Up Next: Hi, My Name Is…
No. 3: Hailie Jade Mathers - Age 14
- Up Next: Smells Like Teen Spirit…
No. 2: Frances Bean Cobain - Age 17
- Up Next: Did You Know...
No. 1: Jonathan Lipnicki - Age 19

Celeb Children Grow Up So Fast No. 4
Lourdes Maria Ciccone Leon - Age 13
If Madonna sang how she was "Like a Virgin," then her daughter, Lourdes Maria Ciccone Leon, is like her mother.
The once most-talked-about born baby is growing up and recently expressed her love for her mom by re-enacting Madge's "Like a Virgin" video with the famous wedding dress, veil, pearl necklace and red lipstick.
Leon is also set to star in the movie "W.E.," a biopic about the affair between King Edward VIII and Wallis Simpson that led to the British royal abdicating from the throne to marry his divorcee lover. Her mother is the screenwriter and director.
Leon also recently was featured on her first cover of the European magazine "Quality" and is paired up with her mother this month to launch a new line of fashion products called Material Girl, designed for teenagers on a budget, exclusive to Macy's New York.
She is definitely Vogue material.
Source: WGAL 8 The Susquehanna Valley.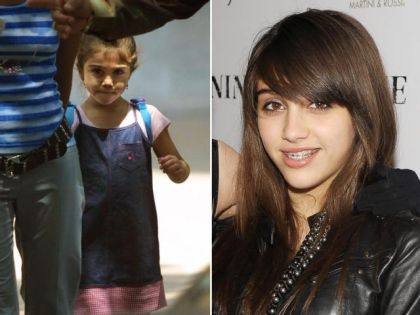 Lourdes in 2003 and 2009.
Photo: Stephen Lovekin/Mario Tama/Getty Images.