Brendan O'Brien, David Guetta and F. Garibay not working with Madonna
Brendan O'Brien, David Guetta et Fernando Garibay ne travaillent pas avec Madonna.

Despite rumors Brendan O'Brien not producing Madonna
Bruce Springsteen favorite Brendan O'Brien not producing Madonna
Posted on Tuesday, Jan 12, 2010 By Melinda Newman
THE BEAT GOES ON
Inside Music with Melinda Newman
Internet rumors have been swirling about whom Madonna has pegged to produce her next album, the follow-up to 2008's "Hard Candy." Among the more surprising--and exciting-- names bandied about over the past two weeks was Grammy Award-winning rock producer Brendan O'Brien, of Pearl Jam/Rage Against the Machine/Bruce Springsteen fame.
We reached out to O'Brien for another story, but couldn't resist asking him about Madonna. He goodnaturedly reminded us not to believe everything we read. "No one has contacted me about working with Madonna," he says. "Someone actually showed me something today that said that Bruce Springsteen was going to fire me because I'd worked with Madonna. It was awesome. It's really hilarious. I'm a huge fan of Madonna's but no one has talked to me. The internet is bulls***. You can write that down."
Duly noted. Similarly, after reports also mentioned DJ A-Trak, he reached out to say his comments about working with Madge were taken out of context. Representatives for both David Guetta and Fernando Garibay told MTV that comments about their involvement with Madonna were also inaccurate.
So who is O'Brien working with? He's finished My Chemical Romance's new set and is now working with another female songbird: Faith Hill. We're very eager to hear what that collaboration yields.
Source: HitFix.

Jan 8 2010 1:55 PM EST
Madonna Lining Up Collaborators For Next LP
However, DJ A-Trak is not working on yet-untitled project.
By James Dinh
[This story was originally published on 1.7.10 at 6:30 p.m. ET]
Editor's note: After this story was published, DJ A-Trak said his comments about working with Madonna were taken out of context by Britain's Daily Star. MTV News regrets the error.
Whether it's her music, image or fashion, Madonna has always been adamant about change and reinvention throughout her career. Her new, yet-untitled album will be no different.
The singer, who is currently hard at work to deliver the follow-up to 2008's Hard Candy, has reportedly lined up a series of collaborators, including David Guetta and Lady Gaga producer Fernando Garibay, to help her with a new sound.
When asked who would be his dream collaborator, Guetta said Madonna remains at the top of his list. "I would love to work with Madonna," he told DigitalSpy.com. "It will probably happen very soon actually. It's all in the early stages and I'm not allowed to speak about it yet!"
Producer Fernando Garibay, who has worked with Britney Spears and Lady Gaga, has also confirmed his involvement with Madonna. When a fan asked Garibay on Twitter when he will work with the Queen of Pop, he tweeted, "Madonna coming soon."
Contacted by MTV News on Friday (January 8), a rep for Madonna said Guetta and Garibay's comments were not accurate.
Source: MTV News.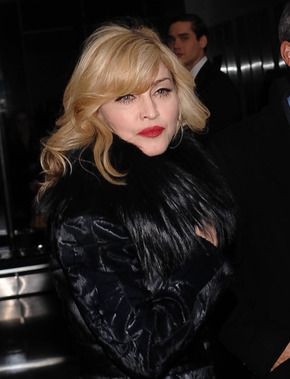 Madonna is not hooking up with Bruce Springsteen's favorite producer. Odd mix anyway, no?
Photo: AP/Evan Agostini.