Busty Material Girl: Chinese actress Huo Siyan wears white bra
Busty Material Girl: L'actrice chinoise Huo Siyan porte un bustier blanc.

Busty material girl
Reminiscent of Madonna's 80s cone bra, busty Chinese actress Huo Siyan wears white bra on the outside of her shirt at store launch.
Malaysia News - June 03, 2011
By Rheus Wai Soh See
3 Jun – Busty Mainland Chinese actress Huo Siyan turned heads when she attended the launch of a designer jeans store wearing a white bra on the outside of a shoulder-padded white t-shirt, according to China Buzz.
Although it wasn't as bizarre as Madonna's infamous cone bra in the 80s, it did draw a lot of attention from guests who attended the event.
The 5'4" Beijing-born beauty was a nominee at the 26th Hong Kong Film Awards for Best Newcomer, starring in "My Name is Fame" (2007).
No further comment can be obtained regarding the peculiar get-up but online reaction indicates that is was a passing publicity stunt.
At age 29, Huo shows no signs of slowing down – although her notable works were both in 2010 - the Hong Kong comedy film "Adventure Of The King" a.k.a. "Long Feng Dian" and CNTV's TV series "Detective Tanglang".
Source: Malaysia News.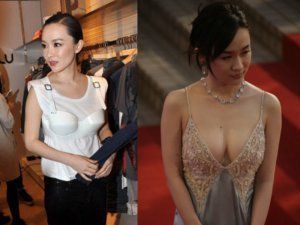 Chinese actress Huo Siyan