Cabaret Show ''In Vogue: Songs by Madonna''
Show Cabaret "In Vogue: Songs by Madonna".

Madonna is played by a man. Madonna est jouée par un homme.

Michael the male Madonna
Louise Nunn / The Advertiser / April 28, 2011 6:08PM
Michael Griffiths had a lot of fun at Vale Park Primary School, joining the Greek and Italian girls singing Madonna's Holiday in the common room at recess.
It was the start of a love affair that will bring him full circle in a show about the Material Girl at the Adelaide Cabaret Festival, In Vogue: Songs by Madonna.
Yes, Griffiths is a 37-year-old man with a voice several registers lower than Madonna, but that's not going to stop him singing her songs.
"The hook is I present them from her point of view, so I am Madonna in the show," he says. "But I don't mimic her, and I'm certainly not dragging up. I will be me, a young man who sings things in a much lower key than she did, and the audience will just have to go with the ride.
"They'll have to accept they're listening to Madonna, talking about her career, her marriages and her songs, and other very personal and very revealing things."
In fact, Griffiths is more than qualified for the task.
He studied piano and composition at the old Flinders St School of Music and then Elder Conservatorium, while dabbling in Adelaide's amateur music theatre scene.
It was a hobby until he realised it was what he wanted to do, and left for Perth to study at the Western Australian Academy of Performing Arts, Australia's only tertiary music theatre course at the time.
Upon graduating, Griffiths moved to Sydney, where he landed a job as a Delltone in the Australian production of the Johnny O'Keefe musical Shout!, coincidentally playing alongside Cabaret Festival artistic director David Campbell, who starred as O'Keefe.
Griffiths hasn't looked back, show hopping from mainstage musicals We Will Rock You to Priscilla Queen of the Desert and Jersey Boys, in supporting roles but doubling as understudy to some of the big leads. "I think I'm seen as very versatile, which is a blessing and a curse," he says.
"It's a blessing because I'm employed but a curse because I think people like the fact I can cover a number of different roles in one show."
He's happy but keeping his fingers crossed for that big break, which in a way is where Madonna steps in. In Vogue is Griffiths' first solo show and a chance to "sing in the way I want to sing". "I haven't done as much straight singing as I'd like, showing off what I can do," he says.
Madonna is a gift of a subject because her songs are so good better, in fact, than generally acknowledged.
"I think maybe in time that will be the popular consensus but you hardly ever hear people talk about her songwriting," he says.
"From about the True Blue album, she's co-written almost everything she's done.
"So if nothing else I'd like people to come out of this show with an appreciation of her as a songwriter."
Not that Griffiths and his writer, Dean Bryant, are planning anything remotely approximating a Madonna appreciation hour. "It's going to be very funny and very camp and very witty and very acerbic," Griffiths says.
WHAT: In Vogue: Songs by Madonna
WHERE: Artspace
WHEN: June 15 to 17
COST: $29, $25 concession
Source: Adelaide Now.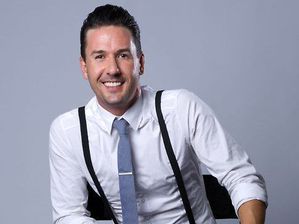 Adelaide Cabaret Festival 2011 - Singer Michael Griffiths from cabaret show 'In Vogue: Songs by Madonna'.


On the cover of supplement of Australian newspaper
"The Advertiser" - April 28, 2011.
En couverture du supplément du journal australien
"The Advertiser" - 28 avril 2011.