Canadian singer Garou to cover Madonna's song ''Sorry'' on his new album on Dec. 8, 2009
Le chanteur canadien Garou va reprendre la chanson "Sorry" de Madonna sur son album le 8 déc. 2009.

Garou chantera Madonna et U2
Publié le 09 novembre 2009 à 23h05 | Mis à jour le 09 novembre 2009 à 23h11
Laura Martin
La Tribune
(SHERBROOKE) L'album de reprises que lancera Garou le 8 décembre prochain portera le titre de Gentleman cambrioleur. La célèbre chanson de Jacques Dutronc, associée à la série télé Arsène Lupin, en sera d'ailleurs le premier extrait radio.
Après l'échec relatif de son album anglophone Piece of My Soul l'an passé, le chanteur sherbrookois promet un disque «bio-organique», sur lequel on retrouvera des interprétations aussi improbables que celles de Sorry, de Madonna, de New Year's Day, de U2, et des Dessous chics, de Jane Birkin. «Je vous entends déjà penser aux reprises (entendues dans mes) spectacles ou à celles que je faisais dans les bars, mais détrompez-vous. Ce sera plutôt une évolution importante dans le son et un exercice préparatif pour le prochain album de chansons originales», décrit-il sur dans son blogue.
Source: La Tribune.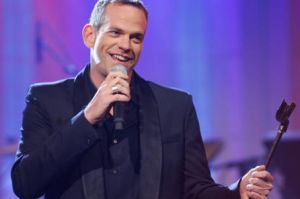 Garou
Photo: Archives La Presse.