Cannes 2011: Madonna to replace Sharon Stone at AmfAR gala?
Cannes 2011: Madonna va remplacer Sharon Stone au gala de l'AmfAR?

CANNES 2011 : MADONNA ANIMERA CE SOIR LE GALA DE L'AMFAR
S.C.
Le 19/05/2011
Une fois n'est pas coutume, ce soir, c'est Madonna qui devrait être aux commandes du gala de l'AmfAR, révèle le magazine Public. Habituellement animé par Sharon Stone, qui a décliné cette année l'invitation, ce dîner caritatif rassemble tout le gratin de la Croisette. Créée par Elizabeth Taylor, l'AmfAR est une organisation qui lutte contre le SIDA : tous les ans, elle organise une grande soirée pendant le Festival de Cannes, afin de récolter des fonds. Les années précédentes, on a pu croiser Diane Kruger, Marion Cotillard, Karl Lagerfeld, Mick Jagger…
Cette année, avec la présence de Madonna en maîtresse de cérémonie, le gala de l'AmfAR risque d'être la it-party de la quinzaine. La chanteuse était déjà présente à la soirée cannoise en 2008, année où l'organisation caritative avait battu des records en matière de dons : plus de 10 millions de dollars récoltés en une soirée ! L'édition 2011 fera-t-elle mieux ?
Source: Elle.

16/05 - 11h53 - EXCLU PUBLIC
Exclu Public : Cannes 2011 : Madonna remplacera-t-elle Sharon Stone pour présider le gala de charité de l'AmfAR ?
L'actrice Sharon Stone devait présider le gala de charité de l'AmfAR contre le SIDA, comme chaque année. Mais la belle a décliné cette invitation et c'est Madonna qui prendrait le relais ! On s'attendait à une star pour remplacer Sharon et on aurait carrément LA Star ! L'AmfAR est une organisation luttant contre le SIDA, créée par la défunte Elizabeth Taylor. Chaque année à l'occasion du Festival de Cannes, l'association organise un des galas les plus courus, et chaque année, c'est la sulfureuse Sharon Stone qui anime la cérémonie. Mais changement de programme pour cette édition, exit Basic Instinct ! Alors qui pour la remplacer ? Eh bien, accrochez-vous, il se murmure actuellement sur la croisette que c'est la grande Madonna (oui, oui Madonna) qui devrait présider la cérémonie ! Le gala était déjà un must de Cannes, il va carrément devenir the place to be si la nouvelle se confirme!
Il faut dire que Madonna a un peu plus de temps à consacrer à son prochain depuis qu'elle a quitté Brahim, son toy boy officiel...
Bref, le 19 mai prochain aura donc lieu le gala de charité de l'AmfAR et les stars défileront pour apporter leur contribution à cette noble cause ainsi que pour vraisemblablement découvrir une Madonna célibataire et maîtresse de cérémonie.
Restez connectés. Public suit l'événement de près !
ABB avec l'aide de L.B.
Source: Public.

14/05 - 16h41
Exclu Public : Cannes 2011 : Sharon Stone ne présidera pas le gala de l'AmfAR ! Mais qui, alors ?
Scoop ! Alors que Sharon Stone tient habituellement les rênes du prestigieux gala de l'AmfAR contre le SIDA, on attend une autre star pour le présenter ! Grosse surprise en perspective ! Le Festival de Cannes, c'est bien sûr un évènement cinématographique mondial, mais c'est aussi le moment où les stars se réunissent pour donner aux autres. Comme au cours du très côté gala de l'AmfAR où chaque année Sharon Stone, en maîtresse de cérémonie, récolte des fonds pour l'organisation fondée par l'actrice Elizabeth Taylor, décédée le 23 mars dernier. C'est le 19 mai prochain qu'aura lieu cet événement inattendu et contrairement aux autres années, ce n'est pas Sharon Stone qui le présidera ! Pour l'instant on ne sait pas encore qui la remplacera, mais une très grande surprise nous attend ! Public vous tient très vite au courant !
Source: Public.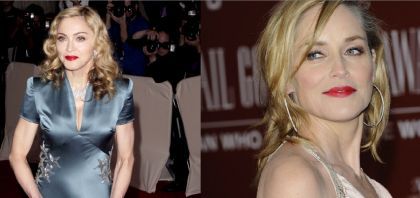 Madonna and Sharon Stone