Cast of 'Glee' channels Madonna for TV Guide Magazine
'Glee' refait Madonna pour le Magazine TV Guide.

The wait for new 'Glee' is almost over!
April 12, 2010 / Jarett Wieselman
If you can believe it, after four months of sitting, waiting, wishing "Glee" will be back in our lives and on our televisions in less than 48 hours! In anticipation of the brand new episodes -- nine in total -- TV Guide Magazine (inspired by the April 20 episode) has decked the cast out in classic Madonna ensembles!
Above is their very best "Vogue" -- which Jane Lynch belts out in the episode's standout moment -- while elsewhere in the issue (on newsstands April 15) Amber Riley is "Like A Virgin," Lea Michele is pretty in pink as Madge's "Material Girl," Diana Argon begs "Papa Don't Preach," Jane Lynch shows some Blond Ambition and Jenna Ushkowitz is riding her "Lucky Star."
But before you check out all the pics at that link below, or watch "The Power of Madonna" next Tuesday, "Glee" says -- and sings -- hello in tomorrow's spring premiere, aptly titled "Hell-O." It's a classic "Glee" episode in the best sense that BroadwayWorld.com has a sneak peek of!
The cast of "Glee" aren't the only ones transforming in the April 15 issue -- TV Guide Magazine will also unveil their new look in the same issue!
Source: NYPOST/PopWrap.
'Glee' finds their inner Madonna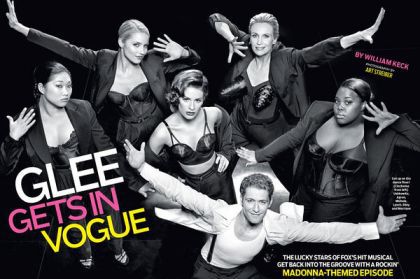 For their new issue (on stands March 15) TV Guide Magazine has transformed the cast of "Glee" into some of the most iconic characters Madonna has ever created. Jenna Ushkowitz, Diana Argon, Jane Lynch, Amber Riley, Matthew Morrison and Lea Michele kick things off with "Vogue."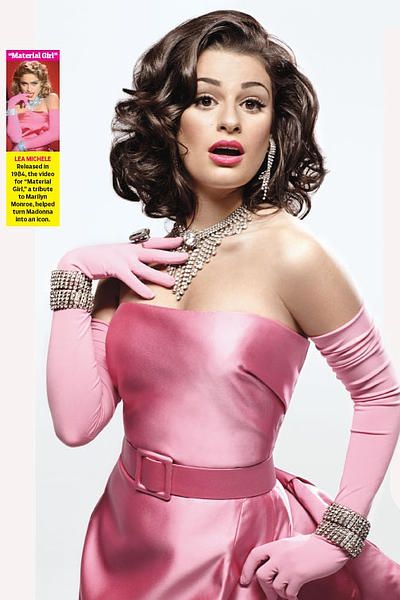 Lea Michele -- who plays Rachel Berry -- looks perfect in pink as she channels Madonna, who was herself channeling Marilyn Monroe, in 1984's "Material Girl" video.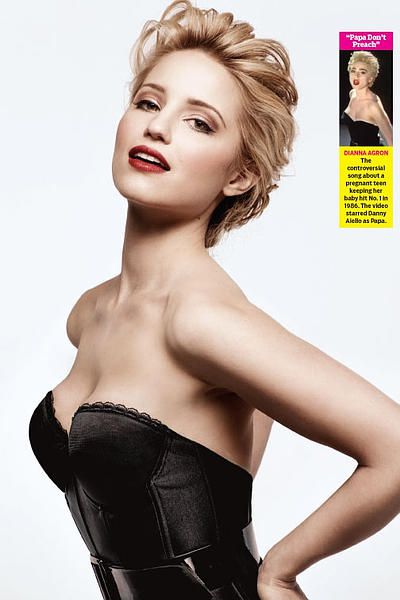 Diana Agron -- who plays Quinn Fabray -- slicks it back and boosts it up in an homage to 1986's "Papa Don't Preach" video.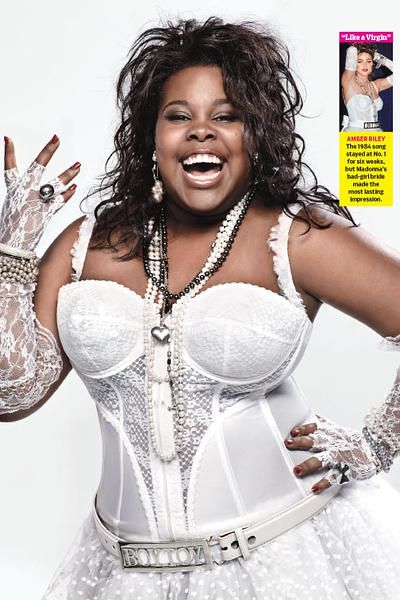 Amber Riley -- who plays Mercedes Jones -- slipped into Madonna's most iconic and scandalous ensemble of all time: the all-white dress she writhed around the 1984 VMA stage in during her legendary "Like A Virgin" performance.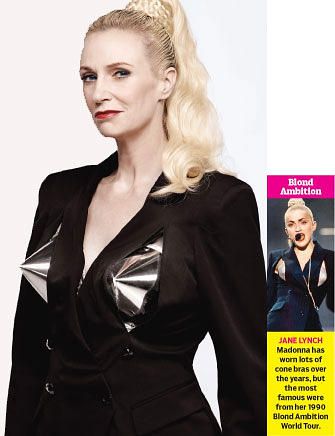 Jane Lynch -- who plays Sue Sylvester -- has not only broken through professionally with her role on "Glee" but she's also bursting through this jacket, like Madonna did on her Blond Ambition tour.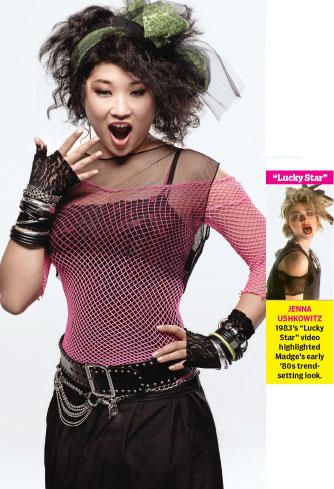 Jenna Ushkowitz -- who plays Tina Cohen-Chang -- would fit into 1983 perfectly thanks to this mesh top, lace glove and oversize hairbow, a la Madonna's "Lucky Star" video.
Photos: Art Streiber for TV Guide Magazine.