Claire Danes: Madonna Worshipper Now and Forever
Claire Danes: Adoratrice de Madonna maintenant et pour toujours.


By Nicki Gostin Posted Feb 5th 2010 09:00PM
So many gorgeous leading men, so little time... First Claire Danes had a romance with Jared Leto in 'My So-Called Life' - reputedly their on-camera kiss preceded her first one in real-life. Then she played star-cross'd lovers with Leonardo DiCaprio in 'William Shakespeare's Romeo + Juliet.' Later, she had a real-life romance with 'Stage Beauty' and 'Princess Mononoke' co-star Billy Crudup.
But it hasn't been all teenage angst and epic Shakespearean love for Danes. She plays the lead in 'Temple Grandin,' a film about an autistic woman who became a best-selling author and livestock industry consultant. The film, which airs Feb. 6 on HBO, focuses on a remarkable woman who's autism gave her a heightened sensitivity of animal behavior and features an unforgettable portrayal by Danes. PopEater spoke with the Golden Globe Award-winner and Emmy nominee about married life, dropping out of Yale and Madonna worship - both then and now.
I read you worshipped Madonna when you were a kid.
I did have this epiphany when I was watching her on TV. It occurred to me that one could perform as one's job. That could be a vocation and that was pretty exciting to me. I remember jumping up and down on the bed. I think most women of my generation worshipped Madonna.
Do you still worship her?
Yeah, I do. I haven't stopped.
You grew up in New York City and live there now. You must know it really well.
I certainly know Soho very well but I even get lost in the West Village which is ridiculous. New York City is so dense and concentrated there's not much reason to leave your ten block radius.
Source: PopEater.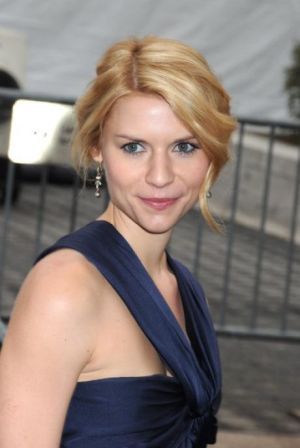 Claire Danes