Coconut Water: Innovation and Natural Health Benefits
Eau de Coco: Innovation et Bénéfices pour la Santé Naturelle.

Official Press Release - Communiqué Officiel de Presse

Research and Markets: Coconut Water: Innovation and Natural Health Benefits of the Fastest Growing Category, with Retail Sales Already Above $450 Million

Press Release Source: Research and Markets On Friday March 26, 2010, 5:45 am EDT
DUBLIN--(BUSINESS WIRE)-Research and Markets (http://www.researchandmarkets.com/research/b3b0fe/coconut_water_inn) has announced the addition of the "Coconut Water: Innovation and Natural Health Benefits Drive a New Category" report to their offering.
Every so often we witness the emergence of a new category a product that is new to consumers, provides new benefits and is marketed under new brands. Twenty years ago the new category was Red Bull and energy drinks; more recently, probiotic dairy.
Today, coconut water is the fast-growing new category, with retail sales already above $450 million (327.5 million), thanks to its strong isotonic, hypo-allergenic and all-natural health benefits.
Using new processing technologies and new brands, start-up companies in Germany, the US and elsewhere are growing coconut water sales quickly and commanding premium prices. Coca-Cola, PepsiCo, Europe's biggest brewing families and even Madonna have invested in the sector.
Coconut water has a host of advantages guaranteed to appeal to health-conscious consumers:
•Its a natural beverage that needs no additions, not even a sweetener
•Its hypo-allergenic, a key benefit in a world in which consumers are becoming more concerned about avoiding one or more of the eight major allergens
•Its a natural isotonic drink, according to the United Nations, which has described it as the fluid of life, providing many of the same benefits as formulated sports drinks, but in an all-natural form.
Coconut water is set to redefine the sports drink market, giving consumers the choice of an all-natural isotonic drink for the first time ever.
This concise report provides our trademark detailed, independent and opinionated analysis, using supermarket sales data and interviews with executives at all of the companies concerned, as well as independent beverage industry experts.
This unique report addresses:
•Packaging
•Ingredients and nutrition profiles
•Supply strategies
•Marketing communications strategy
•Pricing strategies
•Target consumers
•Flavours
For any company, large or small, aiming to create a successful proposition in functional or health-enhancing beverages and better-manage the risks of new product development and innovation, this report provides practical insights and examples.
Key Topics Covered:
1. Executive Summary
2. What is coconut water? 2.1 Natural health benefits 2.2 A benefit people can feel 2.3 Coconut water taps into demand for a natural sports drink 2.4 Coconut water satisfies the rules for marketing natural health 2.5 A premium priced business 2.6 The future for coconut water: the next Superfood?
3. German technology re-defines European market 3.1 Proprietary process 3.2 Control of supply 3.3 Sustainable production key to cost and corporate values 3.4 Products 3.5 Debut in Germany 3.6 Distribution 3.7 Consumers 3.8 Communications and health claims
4. Coconut water in the US 4.1 A new point of difference in the US sports drink market 4.2 The US coconut water brands
Case Study 1: Vita Coco
Case Study 2: Zico
Case Study 3: O.N.E.
Companies Mentioned:
•All Market
•Amacoco Sudeste
•Coca-Cola
•Dr Antonio Martins
•Gatorade
•Green Coco
•Kero Coco
•McDonalds
•O.N.E
•O.N.E. World Enterprises
•PepsiCo
•Powerade
•Trop Coco
•Vita Coco
•Zico
Source: BUSINESS WIRE.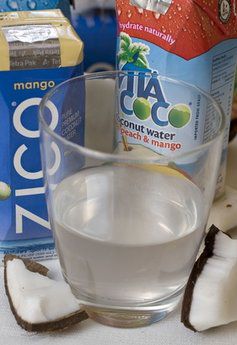 Coconut water is increasing in popularity with several producers vying for a piece of the rapidly growing market.
Photo: AP/Larry Crowe.