David LaChapelle fired Madonna: ''It was a pivotal moment in my life''
David LaChapelle a viré Madonna: "C'était un moment crucial dans ma vie".

David LaChapelle: An Unexpected Life
Mr. LaChapelle with two of his works at the Michelman gallery.
By GUY TREBAY
Published: May 27, 2011
He was hired by Andy Warhol. He fired Madonna. He photographed Pamela Anderson and Lady Gaga and also Hillary Clinton, and made a star of the transgender apparition Amanda Lepore.
He earned millions and spent much of that on a self-financed film about an urban dance form created in the rough neighborhoods of South Central Los Angeles. When the film, "Rize," failed to find a large audience, and with David LaChapelle weary after 20 years of 14-hour days, he packed up a career that any commercial photographer might envy, and he disappeared.
"It was 2006, and the money was rolling in and I thought I was going to die," Mr. LaChapelle, the 48-year-old photographer, said last week. He was making a brief touchdown in Manhattan on the way from Los Angeles, where he keeps a residence, to Hong Kong for an exhibition of his work. It was not just the pressure of a high-flying international career or even a tendency to recreational excesses that spooked him, Mr. LaChapelle said. It was a long-held conviction that he had AIDS.
"I never got tested, and for 15 years I just assumed I was going to die," Mr. LaChapelle said, looking weary, his face puffed and his mood distracted as he sat for an interview at a gallery on the Upper East Side. While his doomful assertion smacked of melodrama, there was a kind of skewed logic in it, given that the artist came of age in Manhattan when the pandemic was decimating the creative community out of which he emerged.
He did not have H.I.V., as he learned when he finally was tested. ("It's the luck of the draw, really," he said. "I was 15 back then and in New York and having sex.") Both that reality and a desire to restore to memory a period in the early '80s before downtown life was tinctured by tragedy motivated him to return to the art he made when, as a high school dropout from suburban Connecticut, he first blew into town.
In New York briefly, on a rare trip away from the farm he has carved out for himself on the dozen or so acres of a defunct nudist colony he bought in a remote corner of Maui, Mr. LaChapelle was overseeing a one-man show at a Madison Avenue gallery and a separate commissioned installation that opens in the lobby of the Lever House on Park Avenue on Thursday.
(...)
During the years when he was focusing on the shoes, Mr. LaChapelle explained, he lost himself. "I did not know how to say 'no.' I worked 14 months without taking a day of vacation. I was 30 pounds overweight and drinking so much. I was not nice to the people around me, and I was even worse to myself."
Mr. LaChapelle's drive and intensity on set and off have contributed to a reputation for nearly maniacal perfectionism he does little to dispel. "David is oddly delicate, so highly strung, so highly involved in his work," said Daphne Guinness, the socialite, fashion fixture and frequent model for the photographer and a woman whose abstracted femininity puts her oddly in line with other LaChapelle muses like Pamela Anderson and Ms. Lepore.
"On a shoot in Ireland we were shooting for 72 hours without a break, and I had a bleeding eye by the end," Ms. Guinness said. "David has done that to me quite a few times. I've been in a tank of water going up and down for 11 hours. He's got it in his mind, whatever it is, and you know he's going to get there by the end."
Unless, that is, he does not.
When, in the middle of a telephone call from Madonna, the singer began haranguing him about a video the two were planning, Mr. LaChapelle suddenly took the mobile phone he was holding away from his ear and snapped it shut.
"My agent was shocked," he said. " 'Did you just hang up on Madonna?' It was a pivotal moment in my life, because it was the first time I said I don't want to do this anymore."
It was liberating, he added, "to think that I didn't have to work for pop stars or magazines anymore, and that I would never have to shoot the latest video by Britney Spears again."
Now when people call asking Mr. LaChapelle for a portrait of Snooki, he has a ready answer. And yet there is reason to hope he will change his mind. David LaChapelle and Snooki: could anything be more brilliantly, perversely Pop?

Full interview here: David LaChapelle

Source: NYTimes.

Note: it was for Madonna's "Hung Up" video in 2006.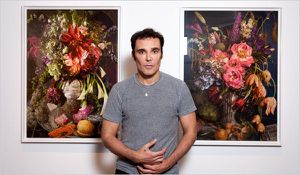 David LaChapelle
Photo: Robert Wright for The New York Times.