Debi Mazar on early years with Madonna
Debi Mazar sur les premières années avec Madonna.

Lunch with Lydia: Debi Mazar
By Lydia Martin
Special to The Miami Herald
Posted on Sunday, 04.03.11
Debi Mazar, the pushy publicist on Entourage and Ray Liotta's squeeze on the side in Goodfellas, was once a fixture on South Beach. She marveled at the Art Deco architecture even before the decaying buildings were splashed in fresh coats of pinks and blues.
And "I loved everything Morris Lapidus," she says.
In fact, she was on the Beach even before her BFF Madonna moved down in the early 1990s to be a regular on the more-glam-by-the-minute party scene. Back in the day, you clocked Mazar out with Madonna at all kinds of glitzy soirees and VIP-heavy dinners.
But Mazar, unlike most of the other names in bold around South Beach at the time, got that there was more to do here besides loiter by the Raleigh's historic pool. Or Gianni Versace's pool, for that matter. Mazar figured out that there were causeways that led to a mainland, and plenty was fascinating about the Miami side.
"I loved getting off South Beach. I had several good Cuban friends, people that I had known from New York. They would take me to hang out with their families in Little Havana. I loved going to the original Lario's Cuban restaurant. I didn't like the one that opened later on Ocean Drive," Mazar says while kicking back at the Loews Hotel over iced teas and sips of mojitos stolen from her Tuscan-born husband Gabriele Corcos. They star in the Cooking Channel show Extra Virgin and were in town to appear at the South Beach Wine & Food Festival.
"My favorite place to go and spend hours was Navarro, the pharmacy. I loved agua de violetas," the violet baby cologne that has been an essential part of childhood for generations of Cubans. "I still buy it when I'm in Miami. And they had this nail polish called Miss Marion that I loved — the best frosted reds," Mazar says, proving her Cuban Miami cred with a wave of a manicured hand. Yes, she knows she's sporting a classic Cuban manicure — bright red middles with pearly white tips.
Mazar was an elevator operator at New York's Danceteria in the early 1980s when she met Madonna, then a broke club kid with delusions of becoming a pop star. They became fast friends, and as Madonna's fantasies started coming true, Mazar became her makeup artist and even appeared in several Madonna videos, including Papa Don't Preach, Justify My Love and Deeper and Deeper.
Even after Madonna reached superstardom, she was as tight with Mazar as she was back when they were struggling and hanging out at Danceteria and Paradise Garage as disco gave way to house and new-wave music.
"I was on that South Beach scene with her, but I never felt like I fit in," Mazar says. "I was a working actor by then, but I never bought into all that fame stuff. I remember being at Versace's place and Stallone's place when there these crazy parties filled with big stars all being congratulatory of one another. I always felt like a fly on the wall at these incredibly decadent parties, which were wonderful to see. But I just didn't feel like a part of it."
When Madonna hosted famous friends at her Coconut Grove house, Mazar spent most of her time in the kitchen.
"I'd get there and open the refrigerator and say, 'Let's see what we have in here today.' And I would start cooking. I enjoyed cooking. But Madonna would make fun of me because I preferred being in the kitchen with the help than in the living room with the stars."
Mazar was always into cooking, but the interest became more of an obsession after she hooked up with Corcos, who was born in the small town of Fiesole, on a hill above Florence. Corcos had planned to follow in his surgeon father's footsteps but quit medical school after six years to dedicate himself to his real passion, Afro-Cuban drumming. He never thought his love for the simple, seasonal Tuscan cooking that he learned from his grandmother would pull him away from his congas and land him his own cooking show.
But he never figured on marrying anyone like Mazar, either.
"My ideal of a woman had always been tall, dark skin, dark eyes, very quiet, very poetic. But I fell in love with Deborah, who chews my ear off, has an opinion about every single thing and busts my b---- constantly," Corcos says with a laugh.
They met at the Florence home of French classical pianist Katya Labeque. Labeque had hit it off with Mazar when they met at Madonna's wedding to Guy Ritchie, and she invited Mazar to spend some time at her palazzo over the summer, where she had gathered some of the world's best classical and jazz musicians for an extended rehearsal. Corcos was there with his congas.
Their connection was instant, they say, but they had little in common. Corcos didn't even remember her from Goodfellas. They did share one thing: an unlikely love of all things Cuban.
"I was always the one making mix tapes for everyone, and nobody knew the music I was into at all. I was playing some of the Cuban greats. Machito, Chano Pozo, Beny More. Nobody got it. Then all of a sudden I meet a girl who knows what I'm talking about."
"I'm a salsera," Mazar says. "I knew Tito Puente and Celia Cruz and went to so many of their shows in New York. My background is Latvian, but I have a Latin soul. I grew up in Queens where many of my friends were Puerto Rican. So I was always in their kitchens learning how to make sofrito and pasteles and coquito from their moms.''
The dynamic between the brassy girl from Queens and the romantic country boy from Tuscany is what makes Extra Virgin, taped in their unpretentious kitchen at home in Los Angeles, so watchable.
"I thought I was a good cook," says Mazar, 46. She and Corcos, who were married in 2002, have two young girls. "But he would break down whatever I made, and he would make it quicker, more simply and much better. And with no drama."
While Mazar was pregnant with their first child, Corcos began putting together a food diary filled with family recipes. He called it The Tuscan Cookbook for the Pregnant M ale.
"I thought it should be published as a real book," Mazar says. "But an agent said men wouldn't buy it."
The idea led to an online cooking series they taped themselves and called Under the Tuscan Gun. "We called it that because I had married a guy from Tuscany and his mother and grandmother were pressuring me to become a good Tuscan cook," Mazar says.
The online series led to the Cooking Channel show, which is just as unscripted and down to earth as Mazar and Corcos seem to be.
"Why are you staring at my breasts?" Mazar asks her husband somewhere in the middle of our chat.
"I'm Italian," Corcos says. "I'm so sorry."
Source: Miami Herald.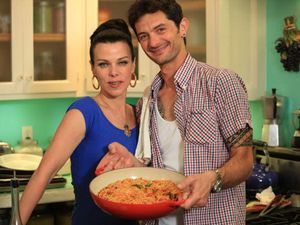 Debi Mazar and Gabriele Corcos on Cooking Channel's 'Extra Virgin.'
Actress Debi Mazar with her husband Gabriele Corcos. Married since 2002, they cohost the "Extra Virgin" show on the Cooking Network.
Photo: Cooking Channel.