Designer Tina Bedi's favourite fashion icon is Madonna
L'icône favorite de la mode de la designer Tina Bedi est Madonna.

Protima Bedi was really stylish for her time, says designer Tina Bedi
Sujata Chakrabarti / DNA
Sunday, May 30, 2010 10:48 IST
Mumbai: As a young child, she observed her parents hop in and out of the several Thai silk boutiques that they owned in Bangkok and her growing up years were spent in learning the ropes of the business. Surrounded by the glint of rich fabric, it was natural that a young Tina Bedi first tried her hand at designing clothes for her Barbie dolls.
The 31-year-old designer says, "The very first article of clothing I ever designed was a dress for my Barbie doll when I was eight. I was at my father's workshop, and decided to sit with the tailors and make my doll a dress from the scraps of cloth that were left over from his silk factory."
Fashions's newest entry, Tina says she didn't want to go to any professional design school to hone her skills, instead preferring to learn it at home. "I grew up around fashion, seeing fabrics and embroideries all around me. My first lesson was at home."
"After managing the boutiques I decided to become a designer," she adds. "After all, I wanted to experience the real rush of creating something that I could feel with my fingers," says Tina.
After moving to India a couple of years ago, Tina feels she has finally arrived home. However she is happy that her years of growing up in Bangkok have prepared her to become a designer from being just an entrepreneur. The designer says, "After my father passed away, my mother and I packed up and came to India. It was a nice feeling to be finally home."
Married into the Bedi family (Tina is married to Seher Bedi who is the niece of actor Kabir Bedi), the young designer's favourite fashion icon is Madonna. Tina also admits that she has always appreciated Kabir's late wife Protima's individual sense of style. "She was so independent and sweet. She was really stylish for her time and had a real, individual sense of style." Talking about her famous last name, Tina adds, "It always helps when someone recognises the sirname but after all it is one's hard work that will ultimately matter."
Having recently showcased her autumn/winter collection at the Dubai Fashion Week, Tina spills her secrets for the winter wardrobe. The designer says, "There is individual printing on the fabric with lots of grey, black and brown and a little bit of ivory." She adds, "Though Dubai was badly hit by the global recession, if you make your garments well, people are still willing to spend big money on them."
Source: DNA India.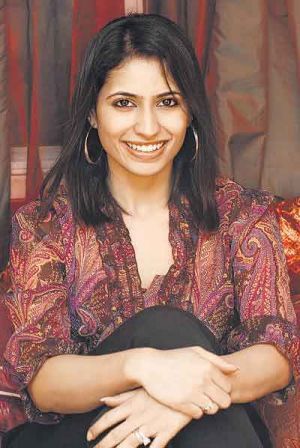 Tina Bedi