Diane von Furstenberg: When Madonna wants to try to show her brain
... she wears one of Diane von Furstenberg dresses!
Diane von Furstenberg: Quand Madonna veut essayer de montrer son intelligence.

... elle porte une des robes de Diane von Furstenberg!

Diane von Furstenberg: "Fashion can be this mysterious thing that you can't explain."
By Celia Walden
Wednesday Apr 6 2011
The groundbreaking wrap dress made her fortune, but Diane von Furstenberg is still seeking new challenges.
Asked by a French journalist back in the Eighties how she came up with her iconic wrap dress, Diane von Furstenberg replied: "Well, if you're trying to slip out without waking a sleeping man, zips are a nightmare." Remind her of this now, and the 64-year-old gives a languid smile. "Haven't you ever tried to creep out of the room unnoticed the following morning? I've done that many times."
Recumbent on a sofa in her New York office, the Belgian-born designer has arranged her slim limbs in the manner of a life model - this is a woman who is used to being photographed. The room has a sensual, salon-like feel: a chaise longue in the shape of a woman's mouth is echoed by a painting of a pair of plump lips above it; the walls are painted fuchsia; and a red, velvet-lined Sixties pod chair hangs from the ceiling. "I can honestly say that I understand women very well," she tells me. "If you understand yourself, you understand women, because, in the end, all women are the same."
That belief may be the key to von Furstenberg's multi-billion pound empire, which began when she arrived in New York in 1972, newly married to the German Prince Egon von Furstenberg, with a new baby and suitcase full of her jersey wrap dresses in tow. "I'm not someone who calculates things," she says, tossing to one side the tawny curls she's refused to chop into an efficient "older woman crop". "Fashion can be this mysterious thing that you can't explain."
For all its libertarian connotations, the success of the garment that made her is something she still can't fathom. "That dress has had this amazing life, one I don't seem to have had any control over."
No matter, as "that dress" will be celebrated in her Diane Vintage collection which will be launched this spring to showcase her most famous prints and styles. She wanders over to her desk, her blue shrug falling to expose a brown shoulder, and retrieves a photograph of herself, aged 22, in a black-and-white wrap dress of her own creation. Then she shows me a Christmas card from the Obamas 35 years later in which Michelle is wearing the same dress. "You see this? That wasn't the result of some marketing ploy. And I never like to think that I design for a particular person. I design for the woman I wanted to be, the woman I used to be, and - to some degree - the woman I'm still a little piece of."
Which goes some way to explain the appeal of the brand, worn by both my mother and a friend of mine in her early twenties, who confessed that buying her first DVF dress made her feel as if she had arrived. Despite a certain cooling in the Nineties, when minimalism turned us into monochrome drones, and thus away from the von Furstenberg aesthetic of print and colour, the brand bounced back 12 years ago when it was relaunched to worldwide acclaim. Nowadays, celebrities such as Uma Thurman, Eva Mendes, Gwyneth Paltrow and Keira Knightley are all fans. "When someone like Madonna wants to try to show her brain, rather than the rest, at a conference in Israel or a book launch," says von Fursternberg, "it's interesting that she chooses to wear one of my dresses."
The Diane Vintage collection is available now; dvf.com.
Source: Independent.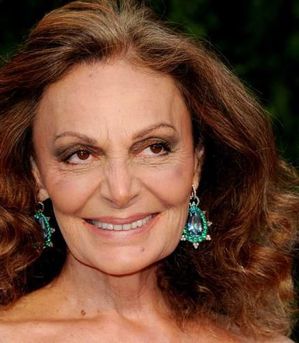 Diane von Furstenberg