Did I say that?: Guy Ritchie on Madonna, murderers and marmalade
J'ai dit çà?: Guy Ritchie sur Madonna, les meurtriers et la confiture d'oranges.

Series: Did I say that?
Did I say that: Guy Ritchie
The film director, 41, on Madonna, murderers and marmalade
John Hind
The Observer, Sunday 27 December 2009
Compiled by John Hind
ON MADONNA
I can understand the whole world is interested in my wife. That's even why I married her (2000)
ASKED IF HIS LONDON PUB, THE PUNCHBOWL, OVERCHARGES TOURISTS
I hope so! (2008)
ORDERING HIS FAVOURITE TIPPLE AT THE PUNCHBOWL
That's quite a gay shandy, but I figured it's good after a scrap (2009)
ON ACTOR JASON STATHAM
Apart from the fact that I don't like him, don't trust him and have no respect for him as a chess player, we work quite well together (2005)
AFTER THE BIRTH OF HIS AND MADONNA'S SON ROCCO
He smiles like a bastard! (2000)
EXPLAINING BROAD CRITICISM OF HIS FILM "REVOLVER"
We got caught up in the zeitgeist of slaggery (2008)
DIRECTING MADONNA IN "SWEPT AWAY"
Can you just drool out of the side of your mouth a bit, darlin'? That's nice (2002)
ON MARMALADE
It's bitter and sweet, right? Don't get me jam! No jam! I don't like raspberry jam, because it's too tart. I do like strawberry jam, but it's too sweet… With marmalade, within its esotericism is a bit of accessibility. So, you see, with my films what I want to create is an accessible bit of esotericism. And well, that's marmalade, innit? (2009)
ON MADONNA'S RIDING ACCIDENT
Eight broken bones was a bill that could only be settled with pain (2005)
ASKED BY MADONNA ABOUT THE PHYSICALITY OF HIS FILM CREW
Are you asking me if it's important that my crew's homosexual? (2008)
ON DECENCY
I once worked with a chap who had murdered people and, you know, he was a good man. I trusted him, more than others (2008)
ON HIS PHILOSOPHY
It's OK to have beliefs, just don't believe in them (2009)
ON A HAPPY GUY
If I can have a few drinks in the morning, a few drinks in the afternoon and a few hours shooting birds, I'm happy (2000)
APOLOGISING TO RAY LIOTTA [AT THE PREMIERE OF REVOLVER]
I'm sorry Ray – I hadn't realised that I had you stripped for what feels like most of the film (2007)
ON MONEY
You've got to know what a pound's worth, that it'll buy you two packets of crisps and a Mars bar (1999)
Source: The Observer.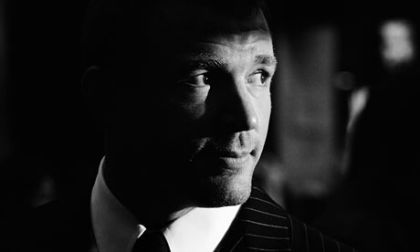 Director Guy Ritchie
Photo: Chris Jackson/Getty Images.