Donna De Lory: Madonna was like a big sister that I wanted to be like
Donna De Lory: "Madonna était comme une grande soeur que je voulais être".

Singer Donna De Lory stretches her talents
NUNN ON ONE: MUSIC
by Jerry Nunn, Windy City Times
2011-05-11
"Who's That Girl?" It's Donna De Lory, who toured for years with Madonna and continues to stretch her legs as an artist with new albums, is now focusing on the world of yoga. De Lory has finally found sanctuary in California, where she chatted about her new life.
- Windy City Times: Hello, Donna. After all this time are you still talking to Madonna?
Donna De Lory: Yes; over the last few years we have been hanging out when we work together. I have my family and she has her family. She was always telling me what it was like before and now that I have mine we just look at each other and know. We can relate now.
- Windy City Times: Is it hard having a career and a baby?
Donna De Lory: Of course; I have an 8-year-old, too. I took her on two Madonna tours—crazy—when she was 1 and 3. I was doing my own shows on my days off, which was completely insane. We got through it and have a lot of amazing memories. My daughter is funny: "I have been on three world tours with Madonna!" I tell her it's two, not three.
(...)
- Windy City Times: You have always had a musical family.
Donna De Lory: Yes, I have. My dad was a producer at Capitol Records when I was growing up. He was already a legendary keyboard player because he has played on so many rock 'n roll records. We would work on films and we would go to the premieres. We always be backstage and being around musicians. I was shy when I was little but my sister started singing professionally when she was a kid. She sang on The Carpenters song "Sing" so I grew up behind her wanting to sing. I started when I was 8 but was painfully shy. At a very young age I knew that's what I wanted to do.
- Windy City Times: Were you influenced by musicians when you were younger?
Donna De Lory: I was getting into artists like Pat Benatar and The Go-Go's so it made me want to be like them. With Blondie and Chrissie Hynde there were enough really cool rocking singers that I wanted to do that whole thing.
(...)
- Windy City Times: So tell me more about your journey as a musician.
Donna De Lory: After Nashville, I moved back to L.A. and used my skill of singing. I would go to every studio and drop off my demo tape. I would sit on the couch and wait for the producer to walk out. I would do my spiel and try to get hired. With my dance experience it all came together when I auditioned for Madonna. I got that tour and it was a huge thing, opening my eyes to performing for the world and not just in the studios.
- Windy City Times: That must have been amazing.
Donna De Lory: It was. I really grew up with her. She was like a big sister that I wanted to be like. I realized I was a performer. I got to work on that aspect of myself for many years working for her but in that time I started developing as an artist. My first release was in Japan from the band Berlin when they wanted to do a side project. After that I started shopping myself as an artist.
- Windy City Times: You have really evolved since then.
Donna De Lory: It took a while. I eventually got away from my label because I was into world music and they were not into it at all. I started my own label in the late nineties, then I was able to release my record. I went on my own tour and did the whole Ani Difranco thing and sold my records. This was a huge shift for me because I grew up thinking I had to get signed to a huge company. There was always such pressure to have a huge hit right off the bat.
- Windy City Times: The music business is just set up like that.
Donna De Lory: It is. So—flash forward—I started my own company and met a cellist, Cameron Stone, who was my musical partner for a long time. This when I made my record, Bliss. There are electronic beats but also eclectic and classical styles. The whole Madonna, Belinda Carlisle thing was not happening for me. I got more into yoga and spiritual studies. I was able to release a record of mantras that did really well in the yoga market. It is a huge community. I eventually did an album called Sanctuary.
Source: Windy City Times.

Full interview here: Donna De Lory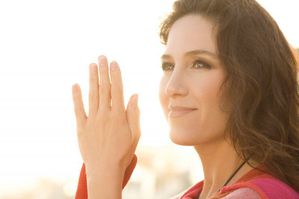 Donna De Lory