Elizabeth Taylor Gay Bar 'The Abbey' plays Madonna songs
Le bar gay d'Elizabeth Taylor 'The Abbey' joue des chansons de Madonna.

Gay Bar Mourns Elizabeth Taylor
By BROOKS BARNES
Published: March 24, 2011
WEST HOLLYWOOD, Calif. — Last Halloween, David Cooley, the founder of the Abbey, a sprawling gay bar here, got a phone call. Elizabeth Taylor was on the line, and she wanted to know if it was a good night to swing by.
"I told her not to come," he said. "It was too busy. And there were already a half dozen Elizabeth Taylors here anyway."
A gay bar, even a fancy one with chandeliers and a roaring fireplace like the Abbey, seems an unlikely haunt for a megastar. But the actress, who died on Wednesday at 79, was a once-a-week regular in recent years — sipping tequila shots, downing watermelon and apple martinis or simply waving merrily from her wheelchair.
Sometimes she brought her dog, Daisy, who, some bar-goers insist, liked to nod her head along to the bar's throbbing Madonna soundtrack.
The scene in the "Elizabeth Taylor Room" — her favorite spot amid the Abbey's many nooks and crannies — was decidedly somber just after news of her death on Wednesday. Regulars, fans and Abbey employees started leaving flowers, candles, pictures and other tokens of affection (an autographed napkin) around a donation Ms. Taylor once made to the bar: a large portrait of herself in her prime.
Sitting untouched on an empty table nearby was a remembrance from the bar staff, a Blue Velvet martini, a bluish drink made with vodka and blueberry schnapps and named in a nod to Ms. Taylor's 1944 film "National Velvet."
"People have been walking up and starting to cry," said Brian Rosman, an Abbey spokesman and a patron. "Others can't talk, they get so emotional."
Mr. Cooley said it should not be a surprise that people in this proudly rainbow-flag-flying town are responding to her death with such feeling. There have been other gay touchstones — Judy Garland, Bette Davis, Cher, Debbie Reynolds, Madonna — but Ms. Taylor perhaps eclipsed all of them, at least for a certain generation, with her outspoken efforts to raise the profile of AIDS at a time when people still referred to it as "the gay disease."
"Taylor's relationship with gay men provided a new model of gay icon," Paul Flynn, an editor at the British gay magazine Attitude, wrote in The Guardian on Thursday. "No longer was it enough to be a woman with whom gay men retained a bass-note of empathy, the kind of strung-out glamour/tragedy axis Judy Garland immortalized."
Ms. Taylor started raising money for AIDS research and victims after her friend Rock Hudson died of the disease in 1985. Over the next 25 years, she would become synonymous with the fight against AIDS, ultimately helping to raise more than $100 million for the cause.
The Abbey, which opened in 1991 and has grown to 16,000 square feet, has become a tourist attraction because of Ms. Taylor's patronage, which started about four or five years ago, according to Mr. Cooley. Sightseeing buses regularly drive by, with guides pointing out the door through which Ms. Taylor, usually wearing gaudy rhinestone sunglasses, would enter and leave.
Still, the Abbey was her hangout. Mr. Cooley said she told him on one of her visits that it was her favorite pub. He had the sentiment printed on a plaque and placed near her donated portrait, which captures her diva qualities: arms extended, wearing an extravagant, shimmering gown recalling her wardrobe in "Cleopatra."
But the bar finds itself continually replacing the plaque.
"People steal it," Mr. Cooley said. "We've screwed it on. We've glued it on. Nothing works. I think it's a symbol to people — that she loved us as much as we loved her."
Source: NYTimes.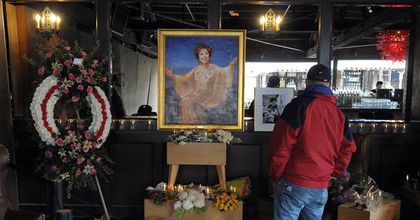 Patrons of The Abbey in West Hollywood, a favorite hang-out of the late Liz Taylor, pay their respects at a shrine erected in her honor.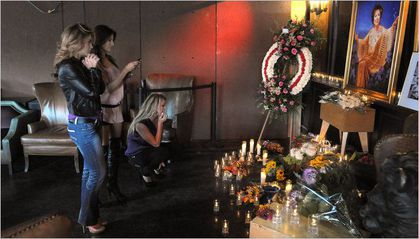 Shannon Kelly, left, Jessica Serrano and Tiffany Masters pay their respects at The Abbey in West Hollywood.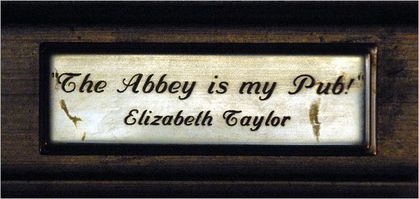 The Abbey was a favorite hang-out of the late Liz Taylor.
Photos: Axel Koester for The New York Times.