Elton John performs Madonna's ''Like A Virgin'' at Rainforest concert
Elton John chante "Like A Virgin" de Madonna au concert de charité Rainforest à NY.

Rainforest Fund's 21st birthday charity concert
Sir Elton John performs Madonna's "Like A Virgin" during the Rainforest Fund's 21st Birthday Celebration benefit concert at Carnegie Hall in New York.
Source: Evening Standard.

Lady Gaga, Bruce Springsteen, Elton John highlight Rain Forest show at Carnegie Hall
Jim Farber
Friday, May 14th 2010, 4:00 AM
Saving the rain forest can bring out the sincere side of anyone, it seems - even Lady Gaga.
At Thursday night's all-star fund-raiser to preserve those endangered parts of the world, a very ladylike Gaga sat poised at the piano at Carnegie Hall and delivered a sober version of one of the most earnest pop songs of all time: "Stand By Me."
Accompanied by Sir Elton John on her next song, "Speechless," she rendered the melody with operatic gravity, moving into John's own "Your Song," as if the two hits - and the two stars - were made for each other.
The result may have done just as much to benefit Gaga's evolving image as it did to aid the world's wildlife.
It handily put her in the company of the pop classics. It also delivered a sure and savvy contrast to the rest of the night.
For their entire 21-year history, the Rain Forest concerts have kept their events on the light side, letting top stars have fun with songs from their own catalogues, and those of others, while hosts Sting and wife Trudy Styler cheer them on.
Much of Thursday night's event tried just as hard to keep things camp as Gaga did to play it straight - with equally rousing results.
Let's see: We had Dame Shirley Bassey belting out not one, but two, gaudy James Bond themes - "Goldfinger" and "Diamonds Are Forever" - before going even further over the top with "Hey Big Spender."
Even at 73(!) her brassy voice has lost none of its volcanic vibrato.
Next we had surprise guest star Bruce Springsteen, who turned up to do a gut renovation on Bryan Adams' hit "Cuts Like A Knife."
He turned it from a toy-rock bauble into a Solomon Burke-like slice of soul.
But it was John who stole the show. Taking a deep, and well-advised, breath, he dove into Madonna's "Material Girl" and "Like A Virgin" while a kick line of go-go boys in Speedos flitted around him with moves worthy of Cirque Du Soleil.
Genius.
Those last two theatrical outbursts arrived during the show's second half, which meant to salute the '80s, though apparently not everybody got the memo.
Nile Rodgers offered up his chic hit from 1978, "Le Freak," while John reached all the way back to the '60s for John Sebastian's "Summer In The City."
(Sebastian himself accompanied the gigantic 40-plus piece band on guitar, but did not sing).
For a finale, the whole troupe (which also included Debbie Harry and Mary J. Blige) came out to sing a kitschy oldie that has somehow become the song of the hour: Journey's "Don't Stop Believin'."
Sung in this context, its chorus' statement of faith seemed downright political - which may just have been the smartest mix of camp and sincerity of this entire wonderful night.
Source: NY Daily News.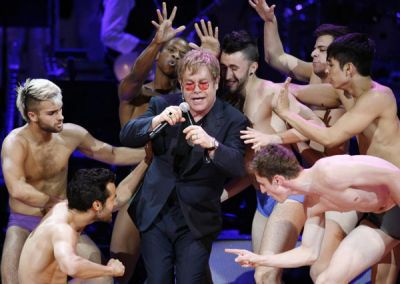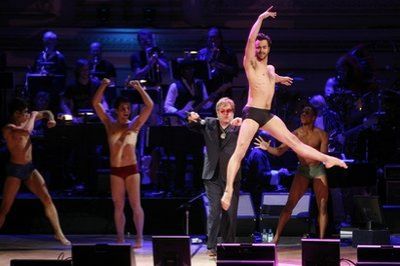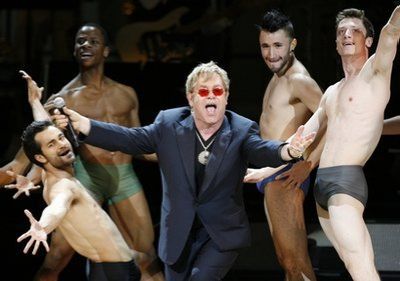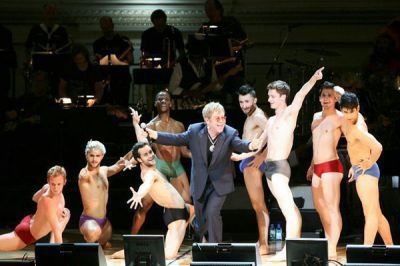 Sir Elton John is surrounded by dancers as he performs Madonna's 'Like A Virgin' during the Rainforest Fund's 21st Birthday Celebration benefit concert at Carnegie Hall Thursday, May 13, 2010 in New York.
Photos: AP/Jason DeCrow.