English singer La Roux: ''Madonna should have stopped afer Ray of Light''
La chauteuse anglaise La Roux: "Madonna aurait dû s'arrêter après Ray of Light".

La Roux : "Depuis 90, Madonna, c'est de la merde !"
Publié par Charles Decant
Lundi 29 Juin 2009 17h33
Il n'y a pas que Lady GaGa qui sait faire de l'électro-pop. Le nouveau groupe à la mode vient tout droit d'Angleterre et se prénomme La Roux. Composé d'Elly Jackson et de Ben Langmaid, ce duo britannique a créé la surprise au début de l'année avec son premier single, "In for the Kill", et le second, "Bulletproof", s'annonce comme le single de la consécration.
De passage à Paris récemment, Elly a accordé un entretien sans langue de bois à Ozap. Elle parle de sa musique, de son look, mais aussi de ses influences, et n'y va pas de main morte avec Madonna. Quant à l'idée d'une version française d'un de ses titres, c'est tout simplement hors de question !
« Madonna aurait dû s'arrêter avec "Ray of Light" »
Sur ta page MySpace, tu listes certains des artistes qui t'ont influencée. Tu inclus Madonna, mais tu précises "à ses débuts". Pourquoi ?
Parce que ce qu'elle fait depuis les années 90, c'est de la merde (rires) ! "4 Seconds"... c'est ça ? "4 Minutes", non ? Je n'aime pas du tout !
Elle est pourtant une inspiration pour une bonne partie d'artistes féminines...
Oui c'est vrai ! J'allais dire "j'ai", mais non, "j'avais" beaucoup de respect pour elle. Elle aurait dû s'arrêter après "Ray of Light" !
Mais c'était son grand retour, "Ray of Light" !
Oui, je sais (rires) !! Bon d'accord, elle aurait dû s'arrêter avec "Music". Je n'ai jamais aimé "Ray of Light", c'était trop années 90, trop house...
Tu avais dix ans, à l'époque, non ?
Oui, mais je détestais cet album à l'époque, et je le déteste toujours (rires) ! Non, elle est brillante, c'est une légende, je ne retire rien de ce qu'elle a réalisé ! Mais je ne vais pas mentir et dire que j'adore tout ce qu'elle fait, parce que ce n'est pas le cas. Il n'y a aucun artiste dont j'aime absolument tout ! David Bowie est l'artiste que je préfère au monde, mais je n'aime pas "Ziggy Stardust", et pourtant c'est peut-être ce qu'il a fait de plus connu. Et de la même façon, une quantité innombrable de gens va détester mon album ! Ce n'est pas très grave, je m'en moque. On ne peut pas plaire à tout le monde !
Tu es décidément très pessimiste !
Oui... mais pour en revenir à Madonna, j'aimais bien ce qu'elle faisait dans les années 80, avec les synthés, tout ça. Je n'ai pas beaucoup aimé "Music", mais je pense que c'était un bon album. Et puis c'est l'une des rares artistes qui continuent à faire de la musique depuis... combien, 30 ans ? Et elle a du succès depuis 30 ans ! On ne peut pas lui enlever ça, il est clair que c'est une putain de femme d'affaires, qu'elle est incroyablement brillante. Mais selon moi, ces dernières années, elle a favorisé le côté business, et non la musique. Et si je suis complètement honnête... je ne me baladerais pas en justaucorps à 21 ans, et je n'ai pas du tout envie de voir quelqu'un le faire à l'âge qu'elle a ! Elle a un super corps, mais il y a un moment où il faut savoir se retirer discrètement...
Source: OZAP.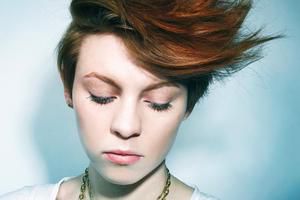 La Roux
Photo: Polydor.