Ewan McGregor Lands Lead In Madonna Movie?
Ewan McGregor dans le film de Madonna?

McGregor Lands Lead In Madonna Movie?
23 March 2010 08:44
Scottish actor Ewan McGregor has landed the lead role in Madonna's movie about late British royal KING EDWARD VIII, according to reports.
The Material Girl is stepping behind the camera for a second time to direct a historical drama based on the former King, who abdicated in 1936 so he could marry twice-divorced American socialite Wallis Simpson.
And the Trainspotting actor is set to play Edward in the upcoming movie, reports Screen Daily.
MCGregor will join Vera Farmiga, who is slated to play Simpson, as well as Abbie Cornish, who has also been linked to the project.
Madonna made her directorial debut in 2008 with Filth and Wisdom, which was panned by critics.
Source: Contactmusic News.

Ewan McGregor Signs With Madonna
23 March 2010 09:51:23
Scottish actor Ewan McGregor has signed up to star in Madonna's new film 'W.E.', in which he will play late British monarch King Edward VIII.
Ewan McGregor has reportedly signed up to star in Madonna's new film 'W.E.'.
The Scottish actor has joined the cast of the upcoming project - which will be the pop star's first project as a writer and director since critically panned 2008 comedy 'Filth and Wisdom' - and will portray British monarch King Edward VIII in the movie.
Website ScreenDaily.com reports: "McGregor, currently starring in Roman Polanski's 'The Ghost Writer', will portray the British monarch who famously abdicated the throne in 1936 order to marry American divorcee Wallis Simpson."
The 38-year-old actor will star alongside Oscar-nominated actress Vera Farmiga - who will portray his screen lover Wallis - and Abbie Cornish, who will play a modern day character in the period movie.
Abbie recently praised the '4 Minutes' singer for the historical knowledge she has injected into the storyline.
She explained: "She's studied every aspect of what happened with Wallis Simpson and Edward VIII.
"It's a fascinating insight into class and romance. Madonna's created a contemporary woman - who I will play - called Wally, who is fascinated by what happened to Mrs. Simpson."
'Shakespeare in Love' producer David Parfitt is working on the project with former Miramax executive Colin Vaines, while Madonna is working on the script with Alek Keshishian.
'W.E.' is still in pre-production and has no release date.
Source: Contactmusic News.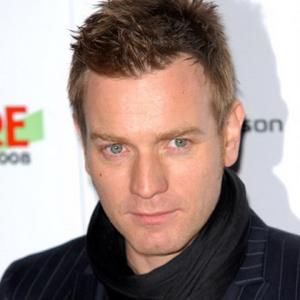 Ewan McGregor