Fight over Madonna's former home heads to court this week
Le combat autour de l'ancienne maison de Madonna va au tribunal cette semaine.


BY GINA DAMRON
FREE PRESS STAFF WRITER
Posted: Nov. 18, 2009
A couple who own Madonna's former childhood home in Rochester Hills -- severely damaged in a fire last summer -- are to be in court Thursday for a hearing on bringing the home into compliance with city ordinances.
Tony and Juliet Dedaj said Tuesday that they haven't been able to fix the home because the insurance company hasn't paid their claim.
City officials hope the judge at 52-3 District Court in Rochester Hills will order the couple to make improvements to the outside of the house at 2036 Oklahoma, including replacing windows that have been boarded up since the July 2008 blaze.
According to a 1987 Free Press article, the pop star -- now 51 -- graduated from Rochester Adams High School during the 1975-76 school year and moved to New York in 1978.
Walking through the home Tuesday, Juliet Dedaj said they plan to get quotes on window replacements.
"It was beautiful, it really was," she said, tears dripping from her eyes, of the roughly 2,700-square-foot home, which the couple spent upwards of $50,000 on in renovations.
"It was my dream house."
Scott Cope, director of building and ordinance compliance for the city, said that, by ordinance, the boards covering the windows should have been removed six months after the fire.
But the couple has said that the insurance company believes they may have had something to do with the fire because of financial problems.
Tony Dedaj -- a former industrial painter who hasn't worked since 2001 when he said he was injured in a car accident -- said his family was staying in a hotel the day the home caught fire because there had been a problem with the gas service.
Todd Gary, fire marshal for Rochester Hills, said investigators turned the case over to Oakland County's fire investigation unit and, as far as he knows, no one has been charged.
The couple is in default on mortgage payments in part because they had stopped receiving disability payments and have been renting a $700-a-month apartment in Rochester. Tony Dedaj said he only recently started getting disability again.
Phyllis Rizzo, a neighbor of the home for 45 years, hopes the home is fixed.
"It's not nice not having neighbors," she said. "We like neighbors. It seems so deserted."
Source: Detroit Free Press.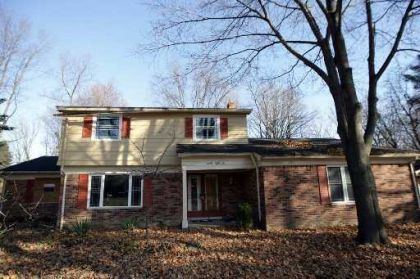 A view on Tuesday of the Rochester Hills childhood home of pop singer Madonna. The couple that owns the home have said they haven't been able to fix the home after a July 2008 fire because their insurance company hasn't paid the claim.
Photo: RASHAUN RUCKER/Detroit Free Press.