Former Radio 1 DJ Jo Whiley: ''Madonna is my personal favourite''
Jo Whiley, l'ancienne DJ de Radio 1: "Madonna est ma favorite personnelle".

Former Radio 1 DJ Jo Whiley on marriage, motherhood and being told off by Madonna
by Rachel Corcoran, Daily Mirror 4/04/2011
She sees herself as anything other than cool, but with music royalty like Bono and Chris Martin among her closest friends, DJ Jo Whiley is about as rock chick as it gets.
Yes she might be a 40-something mum-of-four, but Jo insists she feels as young as she did when she joined Radio 1 back in 1993.
So it might seem strange that she's leaving Radio 1 after nearly 18 years, where she's built up a reputation as a serious music expert and a much-loved voice on the airwaves after helping bands like Coldplay and Biffy Clyro break through.
And not only that, but her move to Radio 2 comes amid rumours she was considered too old to carry on at Radio 1.
However, she scoffs at the suggestion: "People are saying, 'Oh, it's because of age'. But it isn't. It's a natural progression that makes perfect sense. Radio 2 offered me a new show that I couldn't resist and I thought, 'You know what? It's time to go'. I've been at Radio 1 long enough and done everything I could possibly do."
Jo is taking up the evening slot on Radio 2, which kicks off at 8pm tonight. "It's what I did when I first started at Radio 1, so it feels completely natural," she says. "There was no kind of soul-searching or any big decisions to be made."
Despite her excitement, she's found herself reflecting on the more eventful highlights during her years at Radio 1. So what's her personal favourite?
She laughs. "Having Madonna co-presenting was pretty cool,"
"She was in the studio for an hour and a half just sitting right in front of me. She was all in purple – purple coat, purple knicker­bockers and boots – and was ­necking a massive bottle of cold green tea.
"She gave me a lecture about how I should be drinking that instead of coffee!
"But she was so down to earth. We chatted about our daughters and taking our kids horse-riding. There was no awkwardness between records like there can be. I really liked her." Then there were the guests who were slightly easier on the eye, like Hollywood star Jake Gyllenhaal, who left Jo feeling more than a little flustered.
. JO WHILEY PRESENTS HER NEW RADIO 2 SHOW, MONDAY TO WEDNESDAY AT 8-9.30PM FROM ­TONIGHT, AND CONTINUES TO PRESENT RADIO 2'S IN CONCERT ON THURSDAYS AT 8-10PM.
Source: Mirror.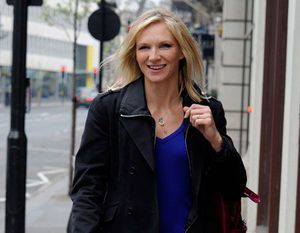 Jo Whiley