'Glee' Jane Lynch hoping for more Madonna
Jane Lynch de 'Glee' espère encore plus de Madonna.


Wednesday, May 5 2010, 15:13 BST
By Catriona Wightman, Entertainment Reporter
Jane Lynch has joked that she would like there to be an episode of Glee devoted to Madonna every year.
Lynch, who plays Sue Sylvester, recently recreated the video for 'Vogue' in a special edition of the show.
Madonna later said that the tribute had been "brilliant on every level" and named Sue and Kurt (Chris Colfer) as her favourite characters.
"That was a big moment," she told Zap2It. "Chris Colfer, who also got called out by Madonna, came over to me shaking with his phone and said, 'Read this'. And we held each other tenderly."
Lynch added that a second Madonna episode would be "great", saying: "We just scratched the surface with her. We've not yet begun to pay homage to Madonna."
Asked if she would like a Madonna episode every year, she replied: "Oh, absolutely. It will always be the best episode of the year, I'm sure."
Glee continues Tuesdays at 9pm on Fox in the US and Mondays at 9pm on E4 in the UK.
Source: Digital Spy.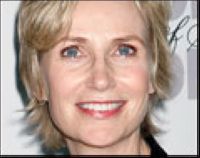 Jane Lynch