''Glee'' Star Jane Lynch Goes Madonna in Next Episode
La star de "Glee", Jane Lynch, devient Madonna dans le prochain épisode.


4/14/2010
The next episode of Glee will be going in Madonna mode. Not only are they performing songs like "Vogue," but they also will recreate the iconic video, starring Sue Sylvester, which premiered online on Tuesday night.
"I do the 'Vogue' video in the Madonna episode, and we replicated everything down to the set pieces, the hair pieces, the wardrobe, the lighting," Jane Lynch told MTV News at the Glee spring premiere party. "It's in black and white, and you're gonna love it. It's amazing."
We all have gotten used to seeing Sue Sylvester in her signature track suit, but we will be seeing her differently in next week's episode. "Oh, yeah, the cone bra, the Gaultier bra, I wear that in one scene. And it's the most powerful I've ever felt in my life," she said. "Well, you know what, I wore the cone bra with the track suit, so it worked. It was a win, win."
Jane said that her character will be even tougher and scarier for the rest of the season. "She terrorizes everybody, still. She gets inappropriate with a bunch of guys. She does a little singing with Olivia Newton John. She gets put in her place in a very interesting, cruel ways by Mr. Will Schuester himself. He gets kind of rough with her, and he really hurts her feelings."
Source: TheCelebrityCafe.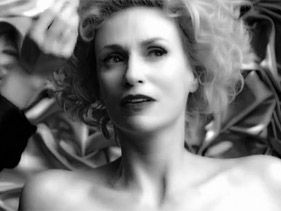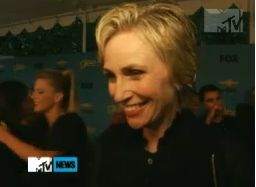 Jane Lynch tells MTV about her role as Sue Sylvester on "Glee."