Grace Jones on Lady Gaga and Madonna
Grace Jones sur Lady Gaga et Madonna.

Hurricane Grace
Kylie Northover
April 2, 2011 - 12:06AM
Fashion, fire, music and light: the elements are at their furious best as the inimitable Ms Jones storms into town on her wildly flamboyant world tour. Outrageously outfitted by long-time friend and collaborator Eiko Ishioka, the age-defying diva is something to see.
FEW singers have integrated fashion into their performances as seamlessly as Grace Jones. When the Jamaican-born Jones crossed over from the world of modelling to become an extraordinary singer — her distinctive voice moves effortlessly from contralto to soprano — she brought with her a singular style enhanced by some of the 20th century's greatest artists. Jones has been muse to fashion designer Issey Miyake, artists Andy Warhol and Keith Haring, photographer Robert Mapplethorpe and designer Jean-Paul Goude, and countless musicians.
Flamboyant pop stars were plentiful in the Studio 54-era 1970s and the affluent '80s, but nobody quite nailed it like Grace Jones, with her angular, androgynous beauty and otherworldly vocals.
Since her first album, Portfolio in 1977, Jones has had a string of worldwide hits — Pull Up to the Bumper and Slave to the Rhythm among her best known — marrying new wave, reggae, dub and disco.
After a break of almost 20 years from recording, Jones released Hurricane, her 10th album, in 2008, and created a visually spectacular live show to promote it. This month, she brings the show to Australia for the first time.
Accompanying her, in specially designed, separately crated luggage, will be some of her wildest, most sculptural costumes yet, designed by legendary Oscar-winning Japanese designer Eiko Ishioka.
On-stage theatrics have always been integral to Jones's live shows but this tour proves nobody does it quite like her — even if many try.
While the bloggers and gossip mags titter over pop starlets-of-the-moment Lady Gaga and Rihanna's appropriation of her distinctive style, the formidable Jones is less concerned.
Asked in Britain's Guardian last year what she thought of Lady Gaga, Jones responded: "I really don't think of her at all. I go about my business."
She's less arch talking to The Saturday Age ahead of this month's tour, but concedes she has no interest in collaborating with Lady Gaga. "Gaga has asked to collaborate, focusing on my stuff but — it's all very flattering, of course, and not just Gaga but Rihanna, quite a few people, you know — are taking stuff, or being inspired by stuff I did.
"I prefer to see other artists doing new things that are inspiring to me as well — I like to encourage the new artists to find their own thing. Gaga definitely has her own thing but definitely mixed up with, not just me, but other people, like Madonna," she says.
"I wouldn't mind collaborating with someone that's doing original stuff, paving new ground — that's what excites me."
Grace Jones plays the Palais on April 14. Her album Hurricane is out now. ticketmaster.com.au
Source: Sydney Morning Herald.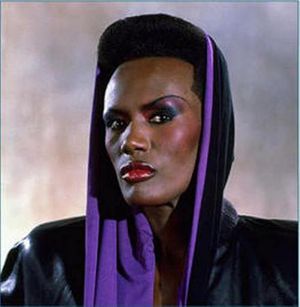 Grace Jones