Guy Ritchie and Jacqui Ainsley with Madonna's children in London
Guy Ritchie et Jacqui Ainsley avec les enfants de Madonna à Londres.

Madonna's kids take a shine to Guy's new girl
By MusicRooms
01/09/2010
Madonna's sons, five-year-old David Banda and ten-year-old Rocco, have been seen bonding with her ex-husband Guy Ritchie and his new girlfriend Jacqui Ainsley.
The group was spotted heading out to dinner in London with Rocco showing off his moves on a skateboard.
David Banda, who was adopted by the couple from Malawi in 2006, was seen clinging to the 28-year-old model as she and Ritchie wandered down the street. Later, the little boy was seen wrapping his arms around her waist outside the restaurant as they waited and then sitting on Ainsley's lap during the meal.
According to the Daily Mail, the Snatch director's young brood got to know his new girlfriend during a holiday on a yacht in the Mediterranean last month.
Source: MusicRooms.

Guy Ritchie's girlfriend Jacqui Ainsley bonds with Madonna's children
Happy families: Guy Ritchie's young girlfriend bonds with Madonna's children over dinner
By Mailonline Reporter
Last updated at 4:07 PM on 31st August 2010
It is not uncommon to see Madonna, toy boy Jesus Luz and her children out together, getting in to their chauffeured cars or leaving the Kabbalah centre in New York.
So there is a little the superstar can say about the images of Guy and his new girlfriend Jacqui Ainsley enjoying a family dinner with her children Rocco and David.
Five-year-old David looks to have taken a shine to the pop queen's 28-year-old replacement, and was seen clinging to her as they walked down the street.
Once inside the restaurant, the little boy insisted on sitting on Jacqui's lap throughout the meal.
Dressed in an understated outfit of jeans, biker boots and an elegant Chanel handbag, Jacqui smiled as David wrapped his arms around her waist outside the restaurant.
Ten-year-old Rocco looked equally charmed, laughing as he skateboarded in front of them, and a smiling Guy looked happy to see his young girlfriend bonding with his children.
It seemed the ink had barely dried on her divorce papers from Guy Ritchie when Madonna was playing happy families with the 23-year-old, but even so, the images are bound to hurt the 52-year-old a little.
Madonna has been shooting her film W.E around London in recent weeks and the stress appears to be taking its toll on her.
She has already been compared unfavourably to Jacqui, and observers noted that she appeared to be mimicking the young model's hair style and dress sense when she celebrated her birthday a fortnight ago.
Jacqui got to know the Sherlock Holmes' children well while on holiday on a yacht in the Mediterranean last month.
The model, 13 years Ritchie's junior, looked at ease as she frolicked on the deck of the luxury liner with the children as Guy looked on.
The pair were first spotted together in April and went public with their relationship after Essex-born Jacqui was spotted leaving his mews house in London after a sleepover in June.
While Madonna quickly introduced Jesus to her children when they began dating in 2008, Guy took his time getting back into a relationship - but was not short of dates, and was seen on several evenings out with a bevy of young beauties.
Source: Mail Online.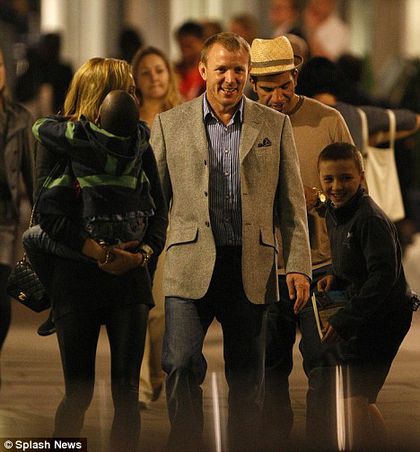 Happy family: Guy Ritchie and girlfriend Jacqui Ainsley enjoy a family dinner with his children Rocco and David in London.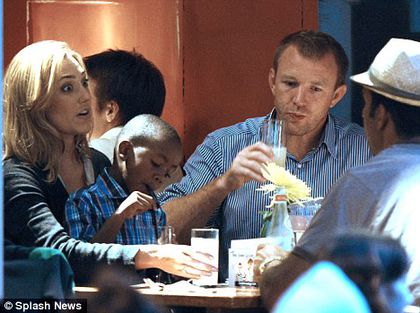 'I want to sit with Auntie Jacqui': David sits pride of place on Jacqui's lap as the group dine out in London.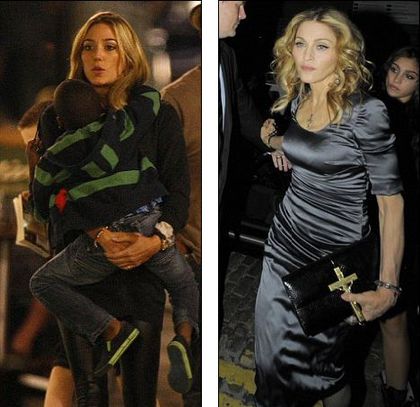 Lookalike: Model Jacqui, 28, has been called a 'younger lookalike' of Madonna, 52.


Moving on: There is little the singer can do, as she and boyfriend Jesus Luz, pictured in New York last year, are often seen out with the children in tow.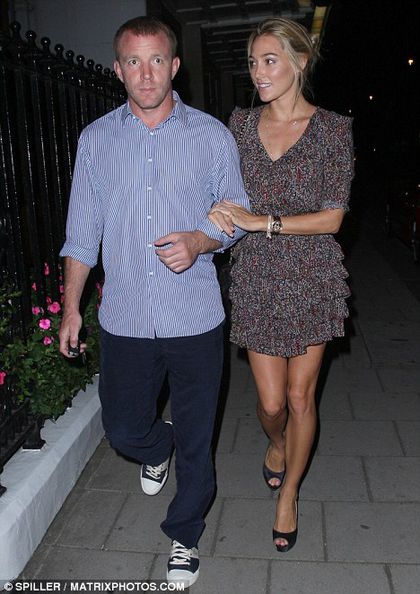 Smitten: Guy and Jacqui, pictured in London on August 10, went public with their romance in June and are said to be getting 'serious'.