Guy Ritchie nose what he likes
Guy Ritchie a le nez pour ce qu'il aime.


Guy's girl Michaela Kocianovah reveals why he fell for her
By Dominik Lemanski, 18/04/2010
Madonna's ex Guy Ritchie nose when he's on to a good thing - which is why he picked gorgeous Michaela Kocianovah.
We were first to bring you snaps of 41-year-old Guy strolling with the Slovakian supermodel - 20 years his junior - on a pub crawl in London last week.
You might think Guy was a hooters man after seeing her flashing a bit of cleavage in this undies shoot.
But Michaela insists she conk-ered Guy when he was directing a Christian Dior perfume ad in Paris that she was starring in, alongside Jude Law.
"Guy fell in love with me because of my nose. He told me beauty is boring - I love your nose. He was really kind to me," she said.
The smitten Sherlock Holmes director made sure curvy 31-22-33 Michaela didn't miss out in the ad.
Ugly
She explained: "The script went out the window. I was much more on camera than was originally planned because he wanted to see more of me.
"He told me he believes in me and said I looked great."
Michaela started modelling at 15 after being spotted out shopping with pals in the town of Trencin, in western Slovakia.
Her catwalk success surprised her though.
Michaela admitted: "I have an older sister. I was always the ugly one. I never had a boyfriend and I was so jealous because my sister was always going out with guys."
But it seems she doesn't have to worry anymore.
Especially now Guy has taken an interest in her glowing future.
She said: "He advised me to consider a career in motion pictures.
"And he said the way I performed was exactly what he wanted on film."
Actually, we're sure that Guy felt the same about Madonna when he directed her in Swept Away in 2002.
Sadly that was a stinker - panned by the critics.
So our advice to you, Michaela: Try to keep a scents of proportion.
Source: News Of The World.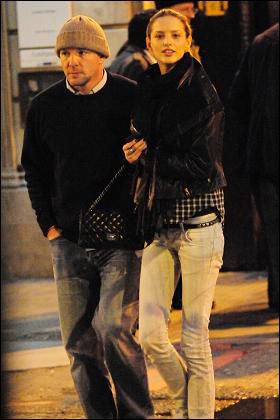 SNOUT AND ABOUT: Guy and Michaela.
Photo: Tony Clark/WENN.