Heavy metal band KISS compares Lady Gaga to Madonna
Le groupe de hard rock KISS compare Lady Gaga à Madonna.

KISS hail Gaga
21/03/2010
Heavy metal band KISS are comparing Lady Gaga to Madonna.
Drummer Eric Singer said: "To me she is the modern day Madonna. She has done what Madonna did back in the 80's."
Gene Simmons said: "I will take Gaga over Madonna any day, anybody that gets visual on stage and is in your face, she is the most exciting thing I have seen in a decade."
The rockers are so impressed by Gaga that they go as far as calling her a new version of themselves. And after thirty years of rocking out with their iconic big hair and make-up the group have recently released their nineteenth studio album Sonic Boom.
Singer said: "It is a classic Kiss record in that sense that it is more stripped down rather than too overly produced. It is just two guitars, base and drums."
Source: ITN.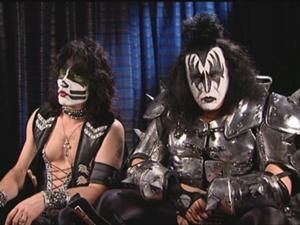 KISS