Hot Chip's new album inspired by Susan Boyle and Madonna
Le nouvel album de Hot Chip inspiré par Susan Boyle et Madonna.

06/01/2010
Novo álbum do Hot Chip terá música inspirada em Susan Boyle e Madonna
'One Life Stand' será lançado no dia 8 de fevereiro
O terceiro disco do grupo inglês Hot Chip, "One Life Stand", já está a caminho. A banda lança, em 8 de fevereiro, o álbum sucessor de "Made In The Dark", de 2008, prometendo baladas e uma música inspirada... em Susan Boyle.
O vocalista Alexis Taylor comentou, em entrevista ao site Pitchfork, sobre a influência da rechonchuda cantora inglesa e de Madonna na faixa "I Feel Better", que "lembra a canção do 'Les Miserábles'" e refrão que soa como 'La Isla Bonita', da Material Girl. "Uma das referências foi Susan Boyle. Joe estava ouvindo ela na TV e pensou nessa melodia para 'I Feel Better', que lembra um pouco a músic do Les Misérables, que ela estava cantando. Então, escrevi o refrão, que soa como 'La Isla Bonita', da Madonna, e espero que não sejamos processados por isso", entregou.
O músico ainda entregou que o disco lhe parece mais coerente que o anterior, com faixas que se encaixam melhor. Taylor diz que em "Made In The Dark" a preocupação era justamente a contrária: as músicas deveriam soar diferentes de uma a outra.
O primeiro single, "One Life Stand", já pode ser ouvido no Myspace da banda. O tracklist do álbum ficou assim:
01- "Thieves in the Night"
02- "Hand Me Down Your Love"
03- "I Feel Better"
04- "One Life Stand"
05- "Brothers"
06- "Slush"
07- "Alley Cats"
08- "We Have Love"
09- "Keep Quiet"
10- "Take It In"
Source: TVZ.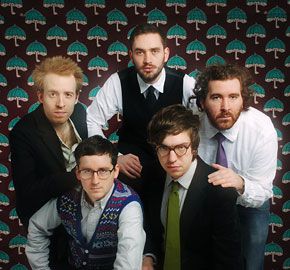 Hot Chip