How French city Toulouse has missed Madonna's Sticky and Sweet Tour
Only because trucks can't enter the stadium !

Comment la ville française Toulouse a manqué le Sticky and Sweet Tour de Madonna.


Seulement parce que les camions ne peuvent pas entrer dans le stade !

Publié le 07/10/2009 12:49 | Sébastien Marti
Enceinte du Stadium : comment on a raté U2, Madonna, Bruce Springsteen et AC/DC
Il est aujourd'hui impossible, dans la configuration du Stadium, d'organiser des concerts géants et d'attirer à Toulouse des stars en tournée internationale. Le problème est technique : aucun camion ne peut pénétrer sur la pelouse et la seule façon d'aménager une scène serait de faire passer à l'aide d'une grue les éléments de la structure par-dessus l'enceinte. « On peut faire des spectacles mais à des prix prohibitifs, explique-t-on à la mairie. Par exemple, on nous avait sollicités pour la tournée de Johnny. Le concert coûtait 150 000 € pour la protection de la pelouse et de 150 000€ à 200 000 € supplémentaires pour la location d'une grue qui transporte la scène et les containers. Le coût était énorme ! ça a découragé les organisateurs. » Des poids lourds de la pop music, comme Madonna, U2, Bruce Springsteen et AC/DC ont été proposés l'été dernier à la mairie de Toulouse pour une date au Stadium. À chaque fois, l'affaire n'a pu être conclue, faute de pouvoir faire entrer le matériel à l'intérieur du Stadium. « Nous sommes contraints de décliner », reconnaît François Briançon, adjoint municipal aux sports. Dans le projet imaginé par Cardete-et-Huet, des « racks », des tribunes escamotables mobiles, seraient aménagés. Trois grandes ouvertures (deux à l'est, une à l'ouest) permettraient le passage des camions. Dans le cas d'un concert ou d'un grand spectacle, le Stadium sera configuré pour accueillir jusqu'à 35 000 spectateurs.
Source: La Dépêche du Midi.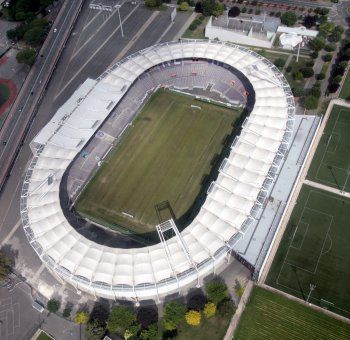 Le Stadium municipal, conçu en 1996 par Cardete et Huet.
Photo: DDM, Michel Labonne.