Illustrator Loren Long to Receive 2011 Alumnus Award
L'illustrateur Loren Long va recevoir la récompense Alumnus 2011.

Official Press Release - Communiqué Officiel de Presse

Acclaimed Illustrator and Author Loren Long to Receive the 2011 Distinguished Alumnus Award from Chicago's Prestigious American Academy of Art
President Obama's collaborator on children's bestseller, Of Thee I Sing: A Letter to My Daughters, to receive major honor Tuesday, May 24.
Press Release Source: American Academy of Art On Tuesday May 24, 2011, 10:30 am EDT
CHICAGO--(BUSINESS WIRE)-- What do President Barack Obama, pop icon Madonna and the late Pulitzer Prize-winning author Frank McCourt (of Angela's Ashes fame) have in common? All three have collaborated with illustrator and former Chicagoan Loren Long on their respective bestselling children's books.
Given Long's many successes, it should come as no surprise that he will be the recipient of this year's Distinguished Alumnus Award from one of Chicago's oldest and most prestigious art schools: The American Academy of Art.
Long will accept his award and address this year's graduating class at the Academy's commencement ceremony at the Chicago Hilton and Towers, 720 South Michigan Avenue, on Tuesday, May 24th at 3 p.m.
Long, a former student of the American Academy of Art, had the privilege illustrating President Obama's latest book, children's bestseller, Of Thee I Sing: A Letter to My Daughters (Knopf). More than 500,000 copies are now in print.
President Obama invited the illustrator to the White House in January for an Oval Office visit along with Long's two teenage sons, ages 13 and 15. Long says the President was very excited about the book, and how well it was doing, especially because proceeds go to help the children of families and fallen of wounded U.S. military. Long counts the visit among the highlights of his life and career.
Prior to being asked to collaborate with the President, Long had already authored his own bestsellers and had illustrated books for Madonna on her bestseller Mr. Peabody's Apples (Callaway, 2003), and with McCourt on his children's tome, Angela and the Baby Jesus (Scribner, 2007).
Long, a Missouri native, enrolled in post-graduate-level coursework at the Academy from 1987-1988, after graduating from the University of Kentucky with a B.A. in graphic and studio arts. Long explains, "After attending the Academy, I was truly ready to become an artist. The Academy's emphasis on cross-disciplinary instruction, small class size, professionalism and adherence to deadlines helped me establish the skills I needed to work well collaboratively or independently."
"Considering there was amazing talent all around me while I was at the Academy, I'm very honored to receive this award," Long concluded.
Before gaining fame as a children's book author and illustrator, Long worked as an illustrator at the Gibson Greeting Card Company in Cincinnati. During that phase in his career, he was also able to gain recognition as an editorial illustrator for numerous magazines and newspapers – including such top-tier publications as Forbes, Time, Atlantic Monthly and Sports Illustrated. Soon thereafter, he also began illustrating book covers for publishers such as Harper Collins and Penguin.
"Loren is an inspiration and source of great pride for all of us here at the Academy – including our 2011 graduates, their fellow classmates, and our faculty and staff," said Richard Otto, the Academy's president. "We were thrilled when he enthusiastically accepted our invitation to receive this highly coveted and prestigious distinction."
Two pieces of advice Long wishes to share with graduating students, and that he attributes to helping his own career, include: 1) Be passionate about your own work; and 2) Become a student of the field – study and learn about the area of art that most interests you.
The New York Times calls his "muscular style inspired by 1930's W.P.A. murals" – a style Long explains he developed by studying the '20s and '30s American regional artists.
Long's next book, Otis and the Tornado, is slated for release in autumn 2011. It is a sequel to his 2009 Otis.
A former Chicagoan, Long now lives in Cincinnati, Ohio, with his wife and two teenage sons. For more information, visit www.lorenlong.com.
About the American Academy of Art:
The American Academy of Art (www.aaart.edu) has trained and educated some of the nation's most prominent and prolific fine artists and illustrators since its founding in 1923. Alumni include comic book and graphic novel artist Alex Ross; movie poster illustrator and cowboy artist Howard Terpning; Haddon Sundblom, who gave us the American version of Santa Claus for Coca Cola; and numerous other artists. Artist T. Allen Lawson, yet another Academy alumnus, received a commission from First Lady Laura Bush to paint the White House 2008 holiday card.
The American Academy of Art (www.aart.edu) offers four-year, accredited Bachelor of Fine Arts degree programs in the following disciplines: Photography, Illustration, Design, Multimedia / Web Design, 3-D Modeling / Animation, Illustration (Digital Illustration specialization), Life Drawing, Painting (oil painting specialization), and Painting (watercolor painting specialization). It emphasizes the classical tradition, reinforced by real-world projects taught by distinguished instructors – all of whom are working artists as well as full-time teachers. The Academy not only guides and trains students to be exemplary artists, it also connects students to valuable resources to help with their transition to real-world careers upon graduation. The American Academy of Art is accredited by the Higher Learning Commission and a member of the North Central Association. The Academy is also accredited by the Accrediting Commission of Career Schools and Colleges (ACCSC).
Source: BUSINESS WIRE.

Loren Long's short bio
Two-time Golden Kite award winner and New York Times #1 bestselling illustrator Loren Long is an artist straight from the heart of America. Born in Joplin, Missouri, and raised in Lexington, Kentucky, Long is a storyteller in pictures who draws on his roots to depict a soulful American landscape peopled with imaginative characters who take on mythic, even heroic, dimensions.
Long graduated from the University of Kentucky with a BA in Graphic Design/Art Studio and went on to do graduate studies at the American Academy of Art in Chicago. For a time he was an illustrator at the Gibson Greeting Card Company in Cincinnati. He gained recognition as an editorial illustrator for numerous magazines and newspapers in the 1990s, most notably Forbes, Time, Atlantic Monthly, and Sports Illustrated. He began illustrating book covers for Harper Collins, Penguin, Houghton Mifflin, and the National Geographic Society. In 1999 Long was commissioned to paint a grand-scale mural for a restaurant in Lincoln, Nebraska.
Long's work is in the permanent collections of the Cincinnati Art Museum, the U.S. Golf Association's Museum, and Sports Illustrated magazine. In November 2001 his work was included in an exhibition of noteworthy Ohio illustrators at the prestigious Centro Cultura Recoleta in Buenos Aires.
In 2002, the United Nations chose Long's "The Firefighter" to hang with 21 other works of art from the Society of Illustrators' expansive exhibition "The Prevailing Human Spirit." In 2004 the Art Academy of Cincinnati presented a retrospective of Long's picture book work.
Long has received numerous accolades for what The New York Times calls his "muscular style inspired by 1930's W.P.A. murals." He is a two-time Golden Kite recipient, and won a pair of gold medals in 2000 from the Society of Illustrators in New York.
In the January/February 2006 issue, Loren was featured in Communication Arts International Design Magazine.
Long believes his calling as a storyteller lies in illustrating children's books, often coupling his art with iconic American literary works. His challenge, met with flying colors if the critics be believed, is to match the soaring poetry of Walt Whitman or the timeless lesson of "the little engine that could" with images as lasting and resonant.
In 2003 superstar singer Madonna chose Long to illustrate her story, Mr. Peabody's Apples (Callaway), which skyrocketed to #1 on The New York Times Best Seller list.
In the same year, Long won the prestigious Golden Kite Award for best picture book illustration from the Society of Children's Book Writers and Illustrators for I Dream of Trains, by Angela Johnson (Simon & Schuster). His illustrations were hailed as "stately paintings" in a Kirkus starred review, and "breathtaking backdrops" by Publishers' Weekly.
Long won a Golden Kite Honor in 2004 for his illustrations in Walt Whitman's When I Heard the Learn'd Astronomer (Simon & Schuster), which also won the 2004 Parents' Choice Gold Award. The New York Times said Long's pictures "make the wonder of the stars, of the imagination rather than the analytical intelligence, as visible to us as it was to Walt Whitman."
The new edition of Watty Piper's The Little Engine That Could (Philomel) was published in 2005 and features all-new illustrations by Long. This book was a childhood favorite of his. The book chugged its way to #1 on the NY Times Best Seller List in 2006.
Long hit a home run in 2007 with the first volume of the Sluggers series (formerly named Barnstormers), making his third appearance on the NY Times Best Seller List. Sluggers is a six-volume chapter book series about an 1800s baseball team, published by Aladdin. In addition to illustrating, Long co-authored the books with fellow vintage baseball fanatic Phil Bildner.
In 2008, the holiday picture book Drummer Boy was released, Long's first solo outing as both writer and illustrator. He has followed this up in 2009 by writing and illustrating the New York Times Bestseller, Otis, about a friendly tractor and a calf. Both books are published by Philomel.
In 2010, Loren illustrated President Barack Obama's book, Of Thee I Sing: A Letter to My Daughters, published by Knopf Books for Young Readers.
Loren can be found drawing each and every day at his house near Cincinnati, Ohio, where he lives with his family and two Weimaraners.
Source: Loren Long.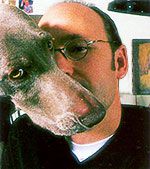 Loren Long

Mr. Peabody's Apples
by Madonna | illustrated by Loren Long
Hardcover: 32 pages ; Dimensions (in inches): 0.49 x 10.38 x 8.32
Published by Callaway Editions; 1st edition (November 10, 2003)
ISBN: 0670058831
Madonna personally chose the artists to illustrate her series of five children's books. Loren's painting style perfectly fits the mood of Madonna's story, set in 1949.
Mr. Peabody's Apples takes place in 1949 in Happville, USA. One Saturday, Mr. Peabody, the beloved elementary school teacher and baseball coach, finds himself all alone on the baseball field. He wonders where everybody is until he sees the bat boy, Billy Little, walking toward him with a sad look on his face. Billy tells him that another student, Tommy Tittlebottom, spread a rumor that Mr. Peabody was a thief after Tommy saw Mr. Peabody taking apples twice from the local market.
Mr. Peabody then shows Tommy that what matters is the truth — not how things appear — and teaches him an unforgettable lesson about how we must choose our words carefully to avoid causing harm to others.
Madonna dedicates Mr. Peabody's Apples to teachers everywhere.
Source: Loren Long.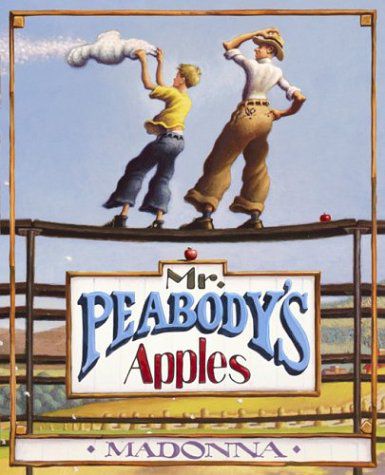 Orignal sketches and paintings from the book
Loren Long - children's book - Mr. Peabody's Apples sketches
Mr. Peabody's Apples | sketches
Loren's pencil sketches and finished paintings