Inside Madonna's Little Mercy Fifth Birthday Party
A l'intérieur de la fête du 5ème anniversaire de Mercy, la fille de Madonna.


January 27th, 2010
Madonna's Little Mercy Is So Lucky! Inside Her $2,000, Celeb-Filled Fifth Birthday Party!
Mercy, you had a really fantastic fifth birthday! Madonna dropped over $2,000 for your party!
Being Madonna's little girl sure has its perks! Little Mercy James, Madonna's adopted daughter from Malawi, had her fifth birthday at Kidville on Columbus Avenue in NYC.
The venue offers a "Big Blowout Birthday Party" for $2,195, which includes shutting down the entire private party zone for a two-hour party, a party with pizza and juice for 20 kids, a personalized birthday cake, balloons, a jumpy castle, and, of course, four "birthday party leaders" to deal with the kids and the mess.
Page Six reports that Jessica Seinfeld brought her daughter (with Jerry Seinfeld) Sascha to the party. And while Mercy had a TON of options for her party theme, we wonder if she followed her super famous mom's footsteps and chose the "Boogie-Down Dance Party" or the "Calling All Future Oscar Winners Party!"
In 2009, Madonna adopted Mercy, (the English translation of her birth name, Chifundo) from an orphanage in Malawi. After a long battle to adopt her, Madonna was able to take little Mercy home last summer.
Source: Hollywood Life.

Sightings
Last Updated: 1:00 AM, January 27, 2010
Posted: 12:49 AM, January 27, 2010
Madonna throwing a fifth birthday party for daughter Mercy at Kidville on Columbus Avenue with tykes like Sascha Seinfeld (with mom Jessica).
Source: NYPOST.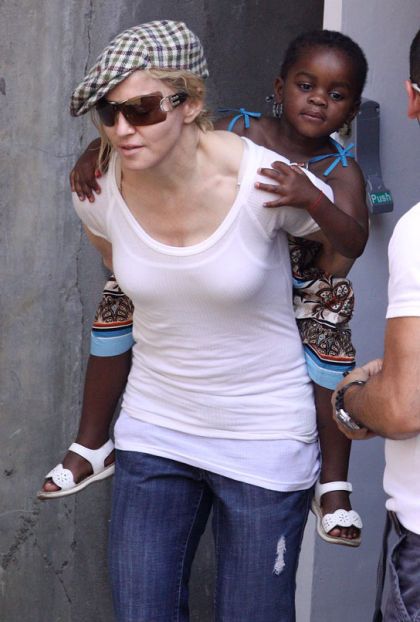 Madonna and Mercy.