Inside Of ''W.E.'': All about Madonna shooting in France
A l'intérieur de "W.E.": Tout sur le tournage de Madonna en France.

July 28, 2010: Villefranche-sur-Mer, looking for locations to film.
Madonna would have spent the evening of July 28 in the city of Nice.
July 29, 2010: Cannes, 1st day of shooting at the Villa Domergue.
Madonna on Roman Abramovich's yacht 'Luna' in Cannes on July 29, 2010.
July 30, 2010: Villefranche-sur-Mer, 2nd day of shooting on the royal yacht "Rainbow Of London".
August 1st, 2010: Departure for Paris for few days then London.

28 juillet 2010: Villefranche-sur-Mer, repérages.
Madonna aurait passé la soirée du 28 juillet dans la ville de Nice.
29 juillet 2010: Cannes, 1er Jour de tournage à la Villa Domergue.
Madonna sur le yacht 'Luna' de Roman Abramovich à Cannes le 29 juillet 2010.
30 juillet 2010: Villefranche-sur-Mer, 2ème Jour de tournage sur le yacht royal "Rainbow Of London".
1er août 2010: Départ pour Paris pour quelques jours puis Londres.

Inside Of "W.E" : Le Compte Rendu…
30 July 2010 | Actualité de Madonna

Le tournage à Cannes s'étant achevé, il est temps de revenir, chronologiquement, sur les temps Forts de cette première journée…
"07h30 : L'ensemble des 24 figurants se retrouvent aux Studios de la Victorine à Nice pour revêtir leurs costumes de tournage. La veille, Madonna avait personnellement supervisé le choix de ces derniers.
10h00 : Après la séance de maquillage et coiffure, toute l'équipe est acheminée par bus vers Cannes pour rejoindre la Villa Domergue.
10H à 13h00 : Madonna filme une scène romantique entre les 2 acteurs principaux sur une des plages Cannoise.
13h30 : Après le déjeuner de l'équipe technique, la Star fait son apparition. Attentive à tous les détails, elle scrute rapidement l'ensemble des figurants et corrige quelques détails vestimentaires.
14h00 : Le tournage peut enfin commencer.
La scène se déroule en 1936. Wallis poursuivie par les paparazzi se réfugie dans sa villa de Cannes, la police et deux majordomes escortent sa voiture.
Il faudra 3h00 pour boucler cette scène d'extérieur.
19h00 : Tournage de la dernière scène de la journée (le dîner de noce). Une partie des figurants quitte le plateau. Sur le trajet du retour vers les Studios de la Victorine, le bilan positif loue les qualités humaines de la réalisatrice, loin de l'image froide et autoritaire que les médias aiment à propager."
Anecdote :
Madonna très souriante, n'hésite pas à donner quelques directives en français tout au long de la journée.
Envoyé par : Med-Jay Paris, Thierry Monaco et Fred Faurtin. Un merci particulier à Fred pour sa précieuse participation.

Selon les rumeurs, Madonna aurait passé la soirée du 28 Juillet dans la ville de Nice !
Le tournage devrait Donc durer jusqu'au 31 Juillet au Soir avant de se poursuivre brièvement à Paris puis de nouveau à Londres.
- Tournage : 1ere Journée terminée - 29 July 2010
La 1ere journée de tournage du film de Madonna "W.E." vient de se terminer à 18H45. Le tournage n'a pas eu lieu à Villefranche-sur-Mer comme annoncé depuis quelques jours, mais à Cannes.
La somptueuse Villa Domergue a accueilli l'équipe de tournage.
Anciennement villa Fiesole. Réalisée en 1934 sur un terrain acquis au bas de la Californie par Jean-Gabriel Domergue, très influencé par le style italien. Le peintre conçoit le bâtiment et la décoration dans les moindres détails, tandis que son épouse, sculpteur, crée les jardins en terrasses, aménagés de bassins et de cascades. Jean-Gabriel Domergue décède en 1962 et Odette Maudrange-Domergue lègue la propriété à la Ville de Cannes en 1973. Selon le vœu formulé de leur vivant par les époux, leurs corps, jusqu'alors inhumés au cimetière du Grand jas, sont transférés à la villa en novembre 2000.
Le tournage se poursuivra demain dans la baie de Villefranche-sur-Mer, sur un superbe bateau des années 30…
- Aujourd'hui, Vendredi 30 Juillet 2010, deuxième journée de tournage.
Fini Cannes, cette fois-ci c'est bien dans la commune de Villefranche-Sur-Mer (où Madonna avait fait des repérages vidéos deux journées auparavant) que se déroulera le tournage… La réalisatrice Star fera les prises de vues et filmera les principales scènes sur le bateau "Rainbow Of London". Un yacht royal qui servit à faire une croisière au couple Wallis en 1936… Il est une part importante dans l'histoire du couple.
Source: Madonna Electronica.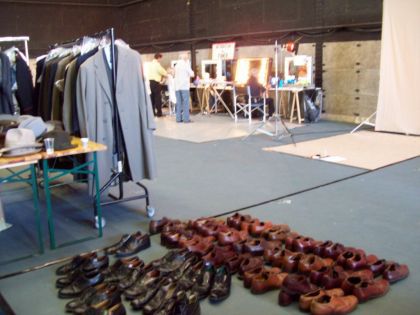 Studios Victorine - Nice, France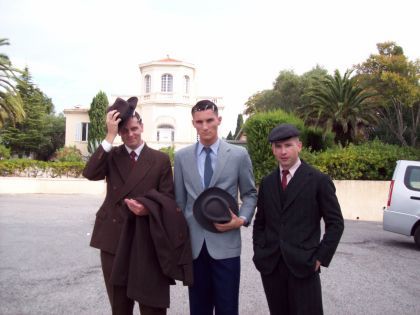 3 des 24 figurants du film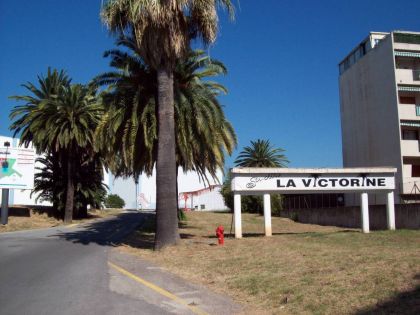 Studios Victorine - Nice, France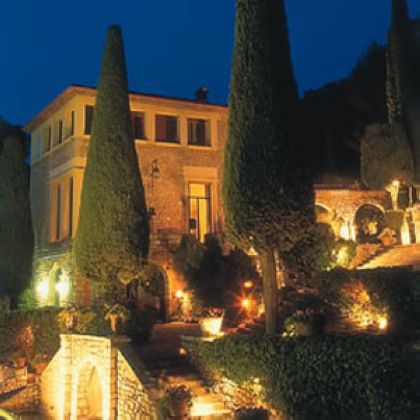 Villa Domergue - Cannes, France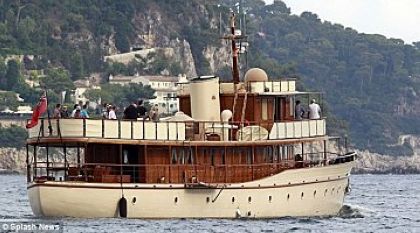 Yacht "Rainbow Of London"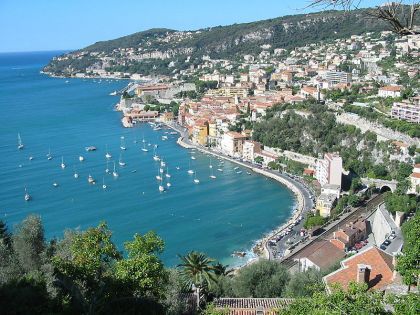 Villefranche-sur-Mer, France